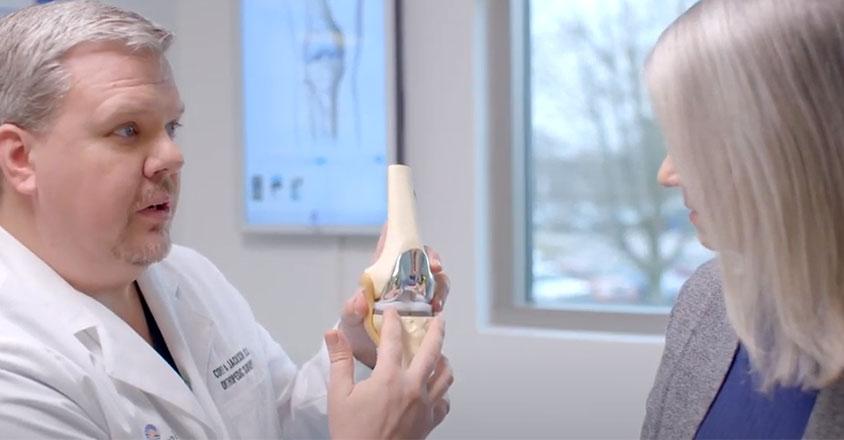 New knees make her feel like 30 again
Monday, September 13, 2021

|
59-year-old Carolyn Church was born and raised in Duncan Falls, Ohio, and practically from the moment she could walk, she was on the move. By the time she became a young adult, adventure called, and Carolyn and her late husband decided to pick up and relocate to Florida.  
In Florida, there was never a dull moment, and Carolyn and her husband worked long hours on a construction crew, helping build houses from the ground up. Carolyn also worked as a manager at Lion Country Safari for 11 years, where she put hundreds of miles on her feet, walking day after day on concrete as she did her work. Not too surprisingly, Carolyn began developing knee and leg pain in her early 30s. 
After the terrorist attacks of 9/11, Carolyn and her husband felt a strong urge to be near family again. At the same time, Carolyn's mother was developing health problems and was starting to need support. The time was right for them to move back to Ohio.  
Pain and problems worsen 
Back home in Ohio, Carolyn found herself spending more and more time at her mother's house, cooking, cleaning and caring for her—and Carolyn's knee issues simultaneously became worse.  
She tried several non-surgical treatments, from over-the-counter medications to steroid injections to assistive devices, like a cane or walker. But finally, the pain became so bad that she could barely walk. So, she moved forward and had joint replacement surgery on her left knee. 
Afterward, life was looking up—but then, something happened. 
"I fell and damaged the knee," explains Carolyn. "It caused my legs to turn in when I walked, and I was in pain every day. But I needed to take care of my mother, so I just kept going. When I finally went to see Dr. Jackson, it was so bad he said, 'I don't even know how you can walk.'" 
At Genesis 
Corey Jackson, D.O, is a board-certified orthopedic surgeon with the Genesis Orthopedic Group. He explains what he saw when he first met and evaluated Carolyn and viewed X-rays of her knees. 
"It was immediately obvious that the alignment of the replaced knee had shifted and that the knee replacement components had loosened from the bone. She also had arthritic changes in her right knee," he says. "However, the more urgent issue was the failed knee replacement of the left knee, so we attacked it first." 
In September 2020, Dr. Jackson removed the existing artificial joint and revised it to a new artificial knee. Carolyn explains she also had lost a lot of bone over time, so Dr. Jackson needed to perform a procedure to place a steel rod in the lower part of her leg. 
"I couldn't believe it" 
The next and final surgery, a knee replacement for the right knee, was scheduled for February 2021. However, COVID-19 complicated these plans and Carolyn also was not able to find care for her mom while she would be treated and recover. Fortunately, by early March, she found the help she needed, so she had joint replacement surgery. 
"I couldn't believe it. Within a week, I was walking without a cane or walker and not limping," says Carolyn. "I am doing great. Right now, I would say I haven't felt this good since I was in my 30s." 
The latest technology, right here at home 
Dr. Jackson explains that the Genesis Orthopedic Services team provides compassionate, high-quality care and state-of-the-art technology. 
"We are now using a computer-navigation knee replacement system that assists with placing knees in as perfect alignment as possible," explains Dr. Jackson.  
He goes on to explain that high-quality care, technology, plus the convenience and peace of mind that comes from being treated close to home, is often a winning combination when it comes to joint replacement and other orthopedic procedures. 
"People in our community have choices when it comes to orthopedic surgery," explains Dr. Jackson. "And certainly, those choices include traveling to a larger city versus staying local. However, it's important to know that we have expert surgeons right here with the skill and experience to address the majority of issues, even complex ones."   
Words of wisdom from Carolyn 
Today, Carolyn continues to care for her mother and provide her with companionship. But now, she's doing it without pain. 
"I'm not doing anything new," she says. "But that's okay. I'm just glad I'm walking every day with no pain. The doctors were great, and I would say the only regret I have is that I didn't get treated sooner."  
Genesis Orthopedic Services offers a full range of joint replacement procedures, many of which can be performed on the same day or with a single overnight in the hospital. For more information click HERE.