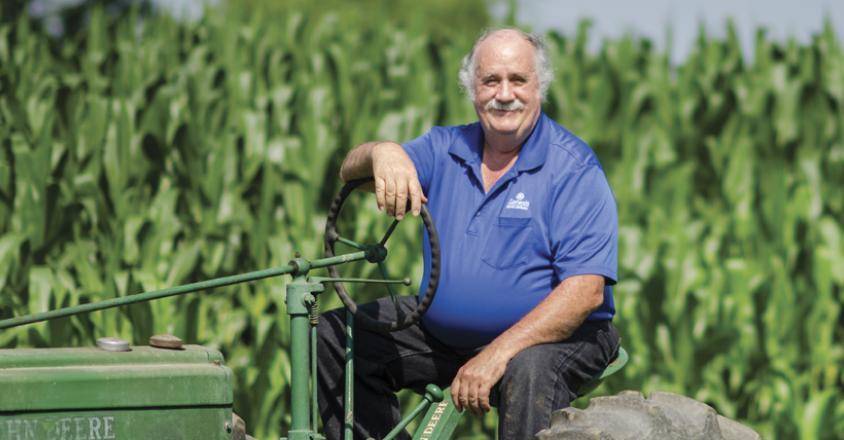 Man Survives 100 Percent Blockage After Coronary Bypass Surgery
Symptoms alert Zanesville man to heart problem
"What's the matter, Grandpa?" asked 7 year-old Hunter. Daniel Wilson rested on a log and inhaled deeply.
"I'm just going to sit here and relax," Daniel said, trying to make sense of the new, lightheaded feeling swirling inside of him. This was the second night in a row that lightheadedness cut into his wood splitting attempts.
Cardiologists work with surgeons to find the right treatment
The next day, Daniel went to work at Genesis in Materials Distribution. He's served in the department that delivers supplies throughout the hospital for 24 years and knows most of the hospital's team members. Sighting Duane Pool, M.D., cardiologist, down the hallway, Daniel asked, "Hey doc, what does it mean if you get lightheaded when splitting firewood?" Dr. Pool quickly replied, "It means you need to get into my office." After hearing Daniel's symptoms and considering his family history, Dr. Pool scheduled a heart catheterization at the Genesis Catheterization Lab. Dr. Pool found blockage, and Daniel was referred to Christopher Genco, M.D., cardiothoracic vascular surgeon at Genesis. "Dr. Pool found severe coronary artery disease in two of Daniel's main vessels," Dr. Genco explained. "One artery with two large branches was 100 percent blocked, and the other artery was 80 percent blocked." Daniel was soon scheduled for surgery.
Grafting veins to restore blood flow to the heart
Coronary artery disease develops as plaque builds. Eventually, the artery narrows and blood flow decreases significantly, causing shortness of breath, chest pain, lightheadedness and other symptoms. Though the disease cannot be cured, quality of life can greatly improve for people with severe disease when surgeons perform coronary artery bypass grafting (CABG).
"Think of it this way, Daniel's main road or artery, was blocked and we needed to build roads around the blockage," Dr. Genco said. "We build the bypass by grafting the veins from the patient's legs or use the mammary artery … Just like we turn off a car's engine when working on it, in Daniel's case we stopped the heart for about 1.5 hours to perform the bypass. As we build the roads and work on the stilled heart, a bypass machine maintains blood and oxygen circulation throughout the body. When we're finished, blood flow is restored and the heart starts pumping again."
Though Dr. Genco explains CABG in simple terms, the advanced procedure requires expertise and top-quality care. "We're fortunate to have a hospital providing such quality heart care close to home," Dr. Genco said. "It provides residents with access to needed health care and opportunities to heal while surrounded by friends and family."
Finding support among family members and friends
Heart disease runs in Daniel's family. His father died during a similar open-heart surgery about 40 years ago. To prepare for his surgery, Daniel attended church and visited his father's grave.
"I was scared to death," Daniel recalled. "When I went into surgery I felt so nervous, but then I looked around and saw an anesthesiologist, who's a friend of mine, and a couple nurses I knew, and I relaxed. I knew I was in good care. The doctors and nurses were pulling for me, and I had a whole bunch of family in the waiting room too. Everybody cared, and I made it through."
Daniel said his support system and trust in the advanced cardiology care at Genesis remained strong throughout his entire journey – from diagnosis, through treatment and recovery. He said his hospital room was dubbed "Main Street" due to many visitors; and his wife, grandson and 3-year-old granddaughter, "Nurse Sofia," doted on him constantly.
"I did this for my family," Daniel said. "But if I did it all again, I'd have started losing weight earlier. I didn't realize I was so heavy; it just crept up on me."
Daniel's weight loss started about a month before his heart-related symptoms surfaced, when he lost 60 pounds by removing pop and sugary drinks from his daily diet.
"We can't make coronary artery disease go away, but there are ways to slow the disease's progression," Dr. Genco said. Healthy habits will be vital to keeping his coronary artery disease in check. Habits that promote healthy arteries include managing diabetes, blood pressure and cholesterol levels; eating healthy; exercising; not smoking; weight loss; and reducing stress.
Back on the farm after recovery
After his CABG procedure in February, Daniel recovered for 11 weeks before returning to work. He doesn't split wood or lift heavy items yet, but he does bail hay, drive the tractor and spend quality time with his children and grandchildren on the family farm.
"I'm back to doing the things I like to do," Daniel said. "Family and friends ask what doctor I used, and I've already referred several to Dr. Genco. I like him a lot, and I'm happy to tell everyone how the experts at Genesis enabled me to get back to working and enjoying life."