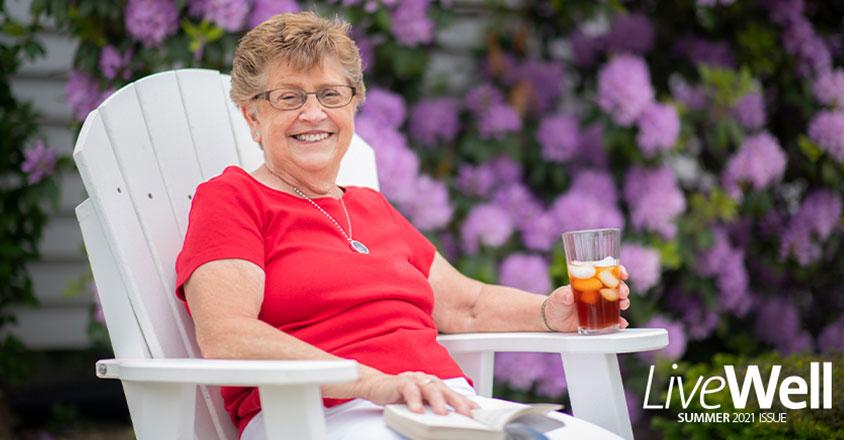 LiveWell Patient Story: Advanced Spinal Fusions
"It hit me that quick, and then it stuck with me. From that moment on, I had pain every day," Janet said.
Janet spent months trying non-invasive techniques, like steroid treatments, stretching and anti-inflammatory medication, but the pain subsided only briefly. After receiving the non-invasive treatments at the Genesis Interventional Pain Management Clinic, she was referred to Yasu Harasaki, M.D. Specializing in spine surgery, Dr. Harasaki is a fellowship-trained and board-certified neurosurgeon with the Genesis Neurosurgery Group.
"Janet's pain was getting in the way of everyday life – going up and down stairs or sitting in a car was painful. The pain also woke her up at night. She needed a long-term solution," Dr. Harasaki said. After reviewing images of her lower spine, Dr. Harasaki identified a slipped disc pinching several nerves in a very tight space. He considered Janet's overall health and situation and recommended minimally invasive spinal fusion surgery.
"The longer we're off our feet, the quicker we become deconditioned and weak – that's especially true as we age. With that in mind, I knew Janet would benefit greatly from the advanced technique that would only have a minimal disruption to her daily life. A lateral lumbar spinal fusion would be her best option," Dr. Harasaki said.

Minimally invasive techniques connect patients with faster recoveries, less pain
Traditional spinal fusion involves an incision on the back and manipulating the muscles to access the surgical site. With the minimally invasive technique, lateral lumbar fusion, surgeons make a smaller incision on the side of the waist. This entry point offers patients less pain with the same desired results. "With a lateral entry, I can get to the structures without irritating back muscles as you do with traditional spinal fusion surgery. That's why patients experience significantly less pain and faster recoveries with lateral lumbar fusion," Dr. Harasaki explained. During Janet's procedure, Dr. Harasaki carefully removed Janet's damaged disc and replaced it with a titanium spacer. Then, using an advanced computer navigation system, he precisely placed screws and rods through 1 ½-inch incisions in the back to fuse the bones around the spine. "After a major back surgery, I was expecting some pain – but I did not have any pain," Janet said.
Specialized physicians bring advanced care to our community
Muscle-sparing minimally invasive procedures like lateral lumbar fusions require specially trained physicians. For example, Dr. Harasaki completed a neurosurgery residency, followed by an extra year of fellowship training in complex spinal surgeries that focused on minimally invasive techniques. "In Central and Southeastern Ohio, not many surgeons perform the lateral lumbar surgical technique," Dr. Harasaki said. "I feel fortunate to be able to bring this opportunity to our community. Minimally invasive spinal fusions are especially beneficial for patients with other medical problems, like diabetes, and also for our older population. In fact, most of my patients having this surgery are 70 years old or older."

Compassionate healthcare teams bond with patients and families

Janet appreciated Dr. Harasaki's expertise and taking the time to explain the procedure to her. For instance, after listening to Dr. Harasaki's detailed explanation of the procedure, Janet mentioned talking with her adult daughters before deciding on
the surgery. "When I said that, Dr. Harasaki asked for their phone numbers. He was going to call them right then and tell them all about it. I could tell he was sincere. We were very impressed, and we continue to be impressed," Janet said. Janet also appreciated the caregiver teams who helped her feel at ease during the decision-making process, surgery and recovery. The Genesis physicians and healthcare teams are known for communicating and connecting with patients and family members. "I often hear our patients say they're treated as people here, and they feel listened to," Dr. Harasaki said. "I think it's wonderful that we can combine a welcoming feeling with advanced treatments and care for our community."
Minimally invasive, major benefits
Advantages of lateral lumbar spinal fusions

When it comes to spinal fusion, a minimally invasive lateral lumbar
approach offers patients a bundle of benefits, including:
• Faster recovery
• Less pain
• Smaller incisions
• Less damage to muscles
• Lower risk of infection
• Decreased use of pain medication
• Shorter hospital stays