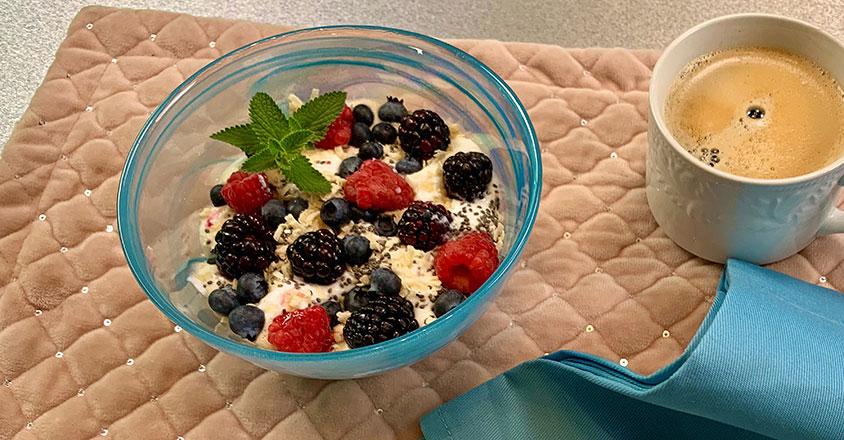 Whipped Cottage Cheese Breakfast Bowl
Cottage cheese is an excellent source of protein, low in fat, and high in calcium.
Whipping the cottage cheese takes it to a whole new level, so creamy and smooth and the perfect texture.  It makes this breakfast bowl feel like an indulgent treat this is healthy too.
Whipped Cottage Cheese Breakfast Bowl
Makes 1 servings
Ingredients 
½ cup low fat or fat-free cottage cheese
¼ pomegranate
¼ cup blackberries
½ ounce unsweetened coconut flakes
1 ounce hazelnuts
*Have fun and experiment by adding your favorite fresh fruits and nuts.
Directions
In a small food processor or personal blender, pulse the cottage cheese until it is smooth and creamy, for about 2-3 minutes. 
Remove the seeds from the pomegranate and prepare the other toppings. Optional: toast coconut flakes and hazelnuts in a skillet over medium-high heat for 2-3 minutes, stirring frequently.
Serve right away or keep in the fridge for up to 24 hours.
Leftovers can be stored in an airtight container in the refrigerator for about 24 hours. Whipped cottage cheese doesn't keep as long as un-whipped, so only whip what you plan to eat in the next 1-2 days.

Nutritional information (per serving) 
Serves 1
Calories 266
Fat 14.5g 
Saturated Fat 6g
Trans Fat 0g
Polyunsaturated Fat 1.1g
Monounsaturated Fat 6g
Cholesterol 5mg
Sodium 387mg
Potassium 153.5mg
Carbohydrates 18.8g
Fiber 5.6g
Sugar 11.6g
Protein 17.8g
 
Download the recipe
Love the recipe? Download the Whipped Cottage Cheese Breakfast Bowl (PDF)