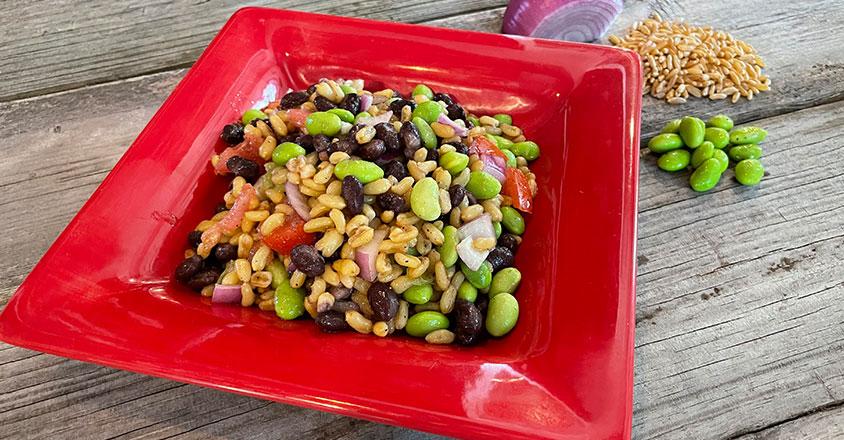 (Video) Recipe: Wheat berry edamame salad
Wheat berries are the edible part of the wheat kernel before undergoing any processing. They have a slightly sweet and nutty flavor. These little gems are high in fiber and have been shown to reduce inflammation and boost metabolism. 
 Serves 8 to 10 
Ingredients: 
8 cups water 
1 cup dry wheat berries 
1 (15 oz.) can black beans, drained and rinsed 
2 cups frozen, shelled edamame, thawed 
1 cup chopped red tomato 
¾ cup finely chopped red onion 
4 tablespoons extra virgin olive oil 
3 tablespoons red wine vinegar 
Cracked black pepper and kosher salt to taste 
Directions: 
Combine water and wheat berries in a saucepan. Bring to a boil. Reduce heat, cover and simmer 55 minutes. Place in a fine mesh strainer, run under cold water to cool quickly, drain. Combine the wheat berries with the remaining ingredients in a large bowl.  Serve immediately or cover and refrigerate up to 8 hours in advance. Serve at room temperature. 
Nutritional information (per serving)  
Calories: 260 
Total fat: 5g 
Saturated fat: 0g 
Trans fat: 0g 
Unsaturated fat: 7g 
Cholesterol: 0mg 
Sodium: 65mg 
Carbohydrates: 45g 
Fiber: 9g 
Sugar: 11g 
Protein: 11g 
Genesis HealthCare System's Health and Wellness content conveniently provides accurate and helpful information. Your health history and current health may impact suggestions provided through our Health and Wellness content. Although we hope this information is helpful, it is not a substitute for your doctor's medical advice. Before making any significant changes, please consult your doctor.