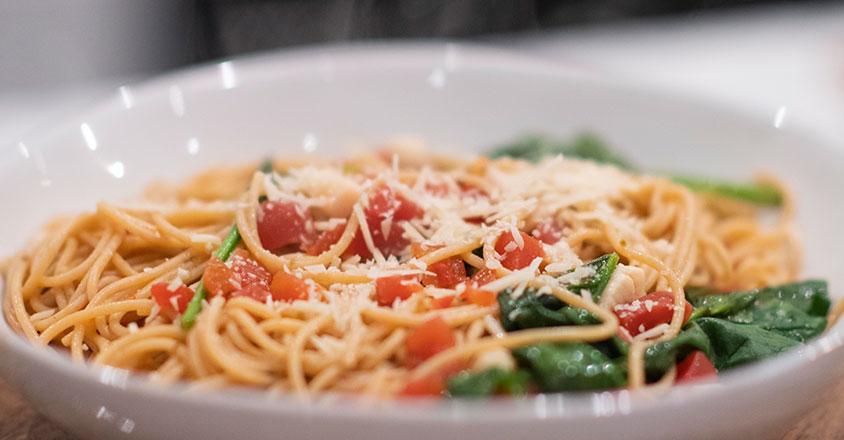 (Video) Recipe: One-pot pasta with tomatoes and spinach
Tuesday, November 16, 2021
Everyone will love this easy, one-pot pasta dinner. It is simple, fresh and healthy.
Ingredients
1 tablespoon olive oil
1 cup chopped onion
6 garlic cloves, finely chopped
1 (14.5-ounce) can unsalted petite diced tomatoes, undrained
1 1/2 cups unsalted chicken stock 
1/2 teaspoon dried oregano
8 ounces whole-grain spaghetti or linguine  
1/2 teaspoon salt
10 ounce fresh spinach 
1 ounce Parmesan cheese, grated (about 1/4 cup)
Directions
Heat a Dutch oven or large saucepan over medium-high heat. Add oil; swirl to coat.
Add onion and garlic to pan; sauté three minutes or until onion starts to brown.
Add tomatoes, stock, oregano and pasta, in that order. Bring to a boil. Add noodles; stir to submerge in liquid.
Cover, reduce heat to medium-low, and cook seven minutes or until pasta is almost done.
Uncover; stir in salt. Add spinach in batches, stirring until spinach wilts.  
Remove from heat; let stand five minutes.  
Sprinkle with cheese and serve.
Other Suggestions 
Be resourceful and use any pasta you have one hand, such as elbow macaroni, rotini or shells. Change up the spinach for any vegetables you have on hand such as sliced zucchini and mushrooms.  Use fresh cherry or grape tomatoes instead of canned and add fresh herbs. Make this a heartier meal by adding skinless, boneless chicken breast or turkey or ground beef.

Nutritional information (per serving)  

Calories 333
Fat 7.1g
Saturated fat 2g
Protein 15g
Carbohydrate 55g
Fiber 9g
Cholesterol 5mg
Iron 5mg
Sodium 538mg
Calcium 197mg
Genesis HealthCare System's Health and Wellness content conveniently provides accurate and helpful information. Your health history and current health may impact suggestions provided through our Health and Wellness content. Although we hope this information is helpful, it is not a substitute for your doctor's medical advice. Before making any significant changes, please consult your doctor.