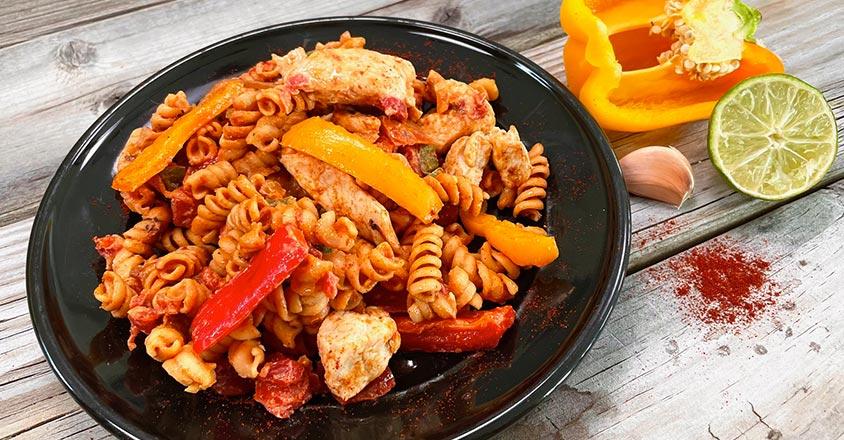 (Video) Recipe: One Pot Chicken Fajita Pasta
This one-pot, Mexican-inspired chicken dinner is easy and ready in under 30 minutes. Chicken is an excellent choice for kids because it is a lean, low-fat protein that contributes to muscle growth and development. The whole-wheat pasta also helps support healthy body weight and tastes great too. 
Serves 5 
Ingredients: 
For the skillet: 
2 large boneless skinless chicken breasts, cut into chunks 
2 tablespoons olive oil, divided 
1 medium red onion, sliced 
1 medium red bell pepper, sliced 
1 medium yellow bell pepper, sliced 
1 medium jalapeno, seeded and sliced 
3 cloves garlic, minced 
1 teaspoon cumin 
¾ teaspoon smoked paprika 
½ teaspoon salt 
¼ teaspoon cayenne pepper (or to taste) 
1 (14.5 ounce) can diced fire-roasted tomatoes 
1 ¾ cups low sodium vegetable or chicken broth 
8 ounces uncooked whole wheat fusilli pasta* 
½ cup unsweetened plain almond milk (or milk of choice) 
Juice of ½ a lime 
For garnish: 
Chopped fresh cilantro 
Thinly sliced green onions 
Directions: 
Season the chicken pieces with salt and pepper. 
Set a large nonstick skillet (that has a lid) over medium heat. Add in 1 tablespoon of olive oil. When hot, add the chicken to the pan. Toss to coat and cook for about 5 to 7 minutes, until cooked through and starting to brown. With a slotted spoon, remove the chicken pieces from the pan to a medium bowl and set aside. 
Set the skillet back over medium heat and add in the remaining 1 tablespoon olive oil. When hot, add in the onion, peppers and jalapeno. Cook for about 5 to 7 minutes, until tender. 
Stir in the garlic, cumin, paprika, salt and cayenne and cook for about 30 seconds, until fragrant. Remove the veggies from the pan to the bowl with the chicken and set aside. 
Add the tomatoes, broth and pasta to the skillet. Bring the liquid just to a boil, then cover, reduce the heat and simmer fairly vigorously for about 11 to 14 minutes, stirring occasionally (and more frequently toward the end of the cooking time), or until the pasta is tender and the liquid is absorbed. Turn off the heat. 
Stir in the milk, lime juice and the chicken/veggies. Allow the pasta to rest for about 5 minutes before serving. Taste and season with additional salt and pepper as needed.  
Garnish with the cilantro and green onions. 
Nutritional information (per serving)  
Calories: 466 
Total fat: 10g 
Saturated fat: 2g 
Trans fat: 0g 
Unsaturated fat: 7g 
Cholesterol: 46mg 
Sodium: 551mg 
Carbohydrates: 68g 
Fiber: 10g 
Sugar: 13g 
Protein: 29g 
---
Ready to get healthy?
Sign up for our digital newsletter to receive health tips, recipes, success stories for inspiration and information about new doctors to help you on your journey to better health.
Genesis HealthCare System's Health and Wellness content conveniently provides accurate and helpful information. Your health history and current health may impact suggestions provided through our Health and Wellness content. Although we hope this information is helpful, it is not a substitute for your doctor's medical advice. Before making any significant changes, please consult your doctor.