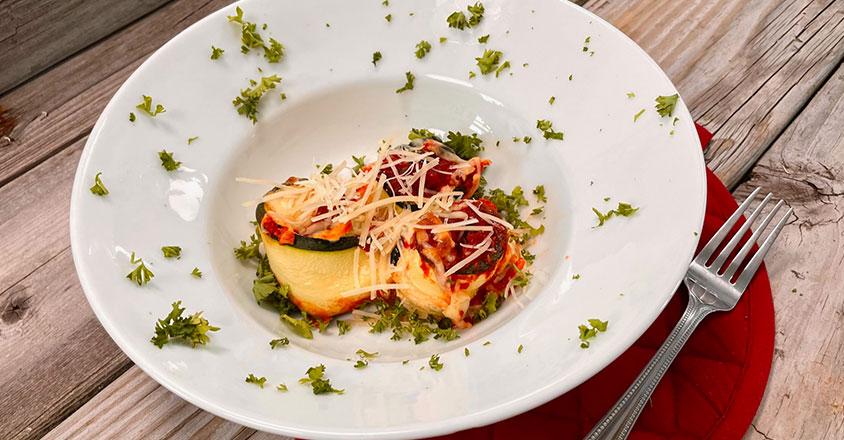 (Video) Recipe: Low-Carb Zucchini Lasagna Roll-Ups
Thursday, September 22, 2022
Try a delicious twist on a traditional lasagna by replacing the noodles with zucchini. Zucchinis are high in antioxidants, help digestion and help keep blood sugar levels in check. This dish is low on carbs but big on flavor.  
Serves 6 
Ingredients: 
4 large zucchinis 
15 ounces ricotta cheese 
¼ cup Parmesan cheese grated 
1 ½ cups mozzarella cheese shredded (divided) 
1 large egg 
2 cups marinara home-made or store-bought 
salt & pepper to taste 
1 tablespoon olive oil 
Directions: 
To make the lasagna roll-ups: Preheat oven to 400F. Grease a sheet pan with 1 tablespoon oil and set aside. 
Slice zucchini into 1/8'' thick slices. Lay zucchini slices on grease sheet pan and oven roast for 10-12 minutes. Remove from oven and cool for 5 minutes before handling. Leave oven on for cooking the casserole. 
While the zucchini is roasting, mix the ricotta cheese, parmesan cheese, 1/2 cup mozzarella cheese, egg and salt and pepper to taste. Stir just until combined. 
In a 9x13 casserole dish, spread homemade tomato sauce on the bottom. 
Assemble zucchini roll ups by laying a zucchini strip on a flat surface and spread about 2 tablespoons of the ricotta mixture first over each individual zucchini strip. Top with a tablespoon of marinara sauce and a sprinkle of mozzarella cheese. Roll up and place in casserole dish. Repeat with remaining rolls. Drizzle remaining sauce (if any) on the rolls and sprinkle with remaining mozzarella cheese. 
Bake uncovered for 20-25 minutes at 400F or until the cheese is melted and bubbly. 
Nutritional information (per serving)  
Calories: 297kcal 
Carbohydrates: 11g 
Protein: 19g 
Fat: 20g 
Saturated fat: 11g 
Cholesterol: 88mg 
Sodium: 751mg 
Potassium: 717mg 
Fiber: 3g 
Sugar: 7g 
Vitamin C: 29mg 
Calcium: 373mg 
Iron: 2mg