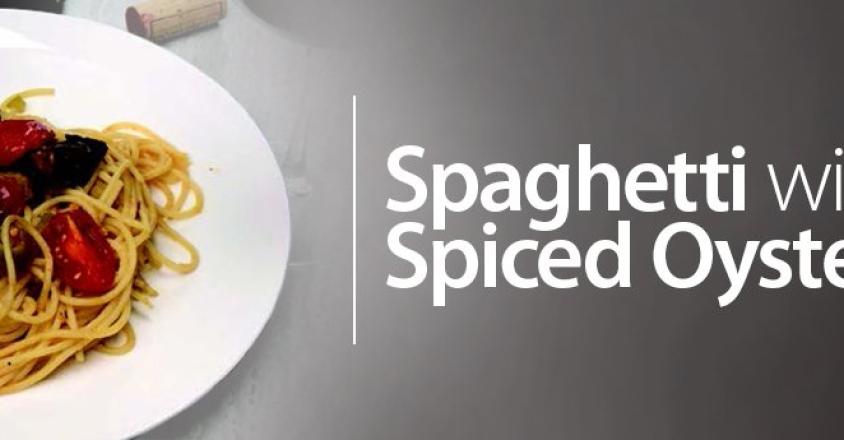 Spaghetti With Spiced Oyster Sauce Recipe
Thursday, October 17, 2019
Oysters are high in protein, low in fat, and have high levels of selenium, a mineral which may reduce your risk of heart disease.
Ingredients
Makes 2 servings
4 ounces' whole wheat spaghetti
2 tablespoons pine nuts
1 tablespoon olive oil
1 large shallot, chopped
1 celery stalk, trimmed and chopped
5 giant pimiento-stuffed olives, cut crosswise into 2 or 3 slices
2 anchovies, well-drained and chopped
1 cup grape or cherry tomatoes, halved
¼ teaspoon paprika
¼ teaspoon pepper
1 (3.7 to 4 ounce) can smoked oysters, well drained
Grated rind of 1 lemon
Crushed red pepper flakes and salt to taste
Directions
Bring a large pot of salted water to a full boil. Add spaghetti and cook until tender. about 10 minutes. While spaghetti is cooking, spread pine nuts in large dry skillet and toast over medium-high heat until light golden brown, shaking skillet frequently.
Immediately remove pine nuts and set aside. Heat oil in skillet. Add shallot and celery and cook over medium-high heat for 3 to five minutes or until shallot is tender. Stir in olives and anchovies. Mash anchovies to a paste. Stir in tomatoes, paprika, red pepper flakes and pepper. Cook for one minute over medium heat or until tomatoes are pulpy.
Drain spaghetti well, reserving 2 tablespoons pasta cooking water. Stir spaghetti and water into tomato mixture. Cook over high heat for one minute to evaporate excess liquid. Stir in pine nuts, oysters and lemon rind. Toss gently but well. Season with salt to taste.
Nutritional information
Per serving
Calories 465
Fat 16 g
Cholesterol 55 mg
Sodium 660 mg (without added salt)
Carbohydrates 55 g
Fiber 10.5 g
Protein 21 g
Love the recipe? Download the Spaghetti with Spiced Oyster Sauce Recipe (PDF)