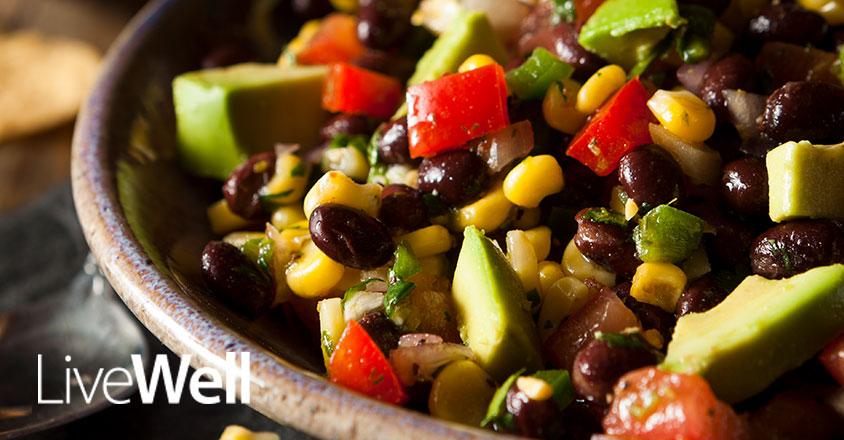 Southwest black bean and avocado salad
Ingredients:
1 - 15 ½ ounces can black beans, rinsed and drained
9 ounces corn, cooked, fresh or frozen, thawed if frozen
1 medium tomato, chopped
1 medium avocado, diced
¼ cup red onion, chopped
¼ cup red peppers, diced
¼ cup lime juice
1 tablespoon olive oil
1 tablespoon cilantro (fresh, minced, or more to taste)
Salt and pepper, to taste, optional
1 jalapeno, diced, optional
1 head Romaine, Boston or Bibb lettuce, optional
Directions:
Combine beans, corn, tomato, onion, red pepper and cilantro in a large bowl.         
               Squeeze and stir in fresh lime juice and olive oil. Add jalapeno and salt and 
               pepper as desired.
Marinate in the refrigerator for 30 minutes. Add diced avocado just 
         before serving. 
Serve over a bed of lettuce or in lettuce cups for a great vegetarian meal or over 
         grilled chicken as a salsa.

Nutritional information(per serving):

Total fat: 3.8 g    
Carbohydrate: 13 g    
Fiber: 4.4 g    
Sugar: 1.7 g    
Sodium: 220 mg    
Protein: 3.3 g