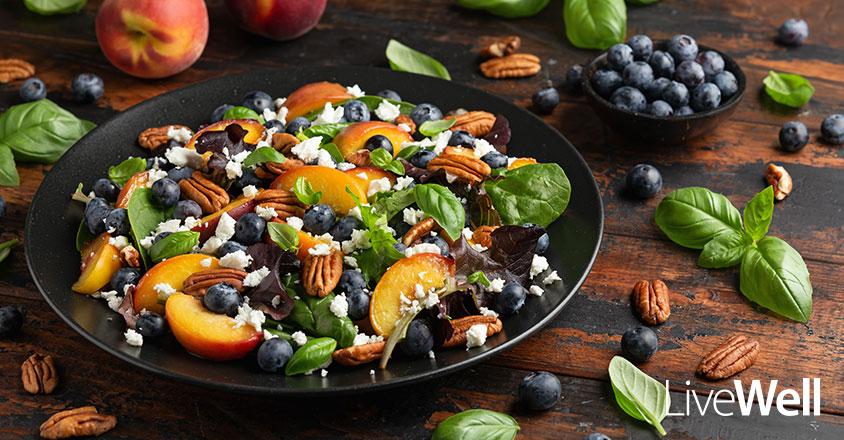 Recipe: Summer Fruit Salad
Ingredients: 
3 cups spring mix lettuce 
2 ½ cups pecans, coarsely chopped 
2 or 3 fresh shallots, minced  
1 teaspoon granulated sugar 
1 teaspoon red wine vinegar  
2 teaspoons red wine
¼ cup dried apricots 
¼ cup fresh red raspberries 
¼ cup fresh blueberries 
¼ cup blue cheese, crumbled 
Make the chipotle-candied pecans 
½ cup granulated sugar 
½ cup water  
2 ½ cups pecan pieces
1/8 teaspoon ground cinnamon 
1/8 teaspoon chili powder 
Preheat oven to 375° F. Line a baking sheet with parchment paper. 
In a small saucepan on the stovetop, combine sugar and water. Bring to a boil, whisking to dissolve the sugar.  
Remove from the heat, stir in the pecans and toss to coat. Spread the nuts on a single layer on the prepared baking sheet. Toast in the oven for about 8-10 minutes, or until toasty.  
While still warm, sprinkle the nuts with a mixture of cinnamon and chili powder. 
Set aside to cool completely. Once cool, you can store the candied nuts in an airtight container at room temperature for up to a month. 
Make the dressing  
In a small bowl, whisk together the minced shallots, sugar, red wine vinegar and red wine. 
Heat the saucepan to low heat and add the mixture. Cook for 5 minutes or until shallots are tender.  
The minimum internal temperature should be 140 degrees F. or above.
Cool quickly to an internal temperature of 40 degrees F. or below. 
Store in an airtight jar in the refrigerator at 40 degrees F. or below for up to 1 week. 
Assemble the salad  
Put the lettuce in a stainless-steel serving bowl. 
Add the blue cheese, raspberries and blueberries.  
Top with candied pecans and apricots. 
Just before serving, drizzle the dressing over the salad, to taste. 
Nutritional information: 
Serving size: 1 salad (about 3 cups) 
Calories per serving: 300  
Total Fat: 15 g  
Cholesterol: 20 mg  
Sodium: 230 mg  
Carbohydrates: 13 g  
Fiber: 3 g  
Sugar: 17 g  
Protein: 3 g 
Approved by:  
Clay Simmons  
Executive Chef  
Genesis Food and Nutrition Services 
Find more recipes at genesishcs.org/eatwell. 
---
Ready to get healthy?
Sign up for our digital newsletter to receive health tips, recipes, success stories for inspiration and information about new doctors to help you on your journey to better health.