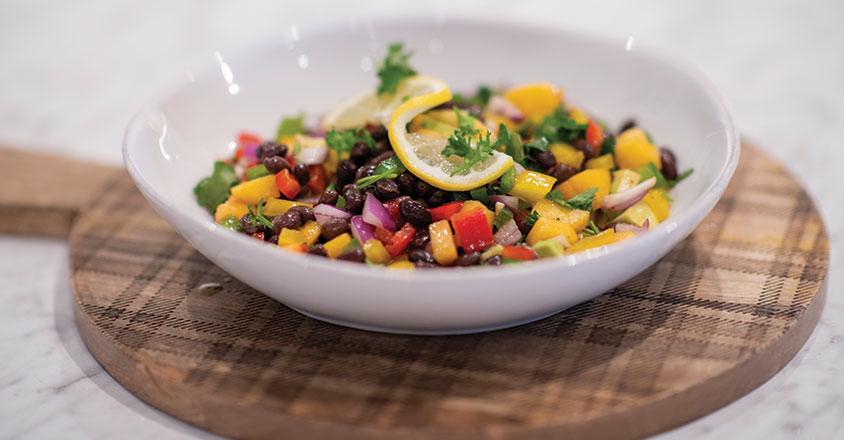 (Recipe) Peach and black bean salad
Wednesday, August 10, 2022
This salad is the definition of summer and easy to make. Cut fresh peaches, cilantro, citrus and jalapenos and mixed with black beans for a fiber-rich side salad.  
Ingredients 
2 fresh peaches, finely chopped  
1 red bell pepper, finely chopped  

1/4 red onion, finely diced  

1 jalapeno pepper, seeded and diced  

1 (15.5 ounce) can black beans, rinsed and drained  

1/2 cup finely chopped fresh cilantro  
1/2 teaspoon ground cumin  

Sea salt to taste  

1 avocado, peeled, pitted and chopped 

2 tablespoons lime juice  

2 teaspoons extra-virgin olive oil 
Directions  
Mix peaches, red bell pepper, onion and jalapeno pepper together in a bowl; gently fold in black beans and cilantro. 

Season with cumin and sea salt. 

Fold in avocado and drizzle salad with lime juice and olive oil. 
Let stand for at least 15 minutes before serving. 
Nutritional information (per serving)  
Serving Size: ½ cup 
Calories 117 
Fat 5 g 
Fiber 5 g 
Protein 7 g 
Enter for a chance to win one of four $25 gift cards
Enter for a chance to win one of four $25 e-gift cards. Every Tuesday and Thursday, we post one piece of wellness information on our website and promote it through our Facebook page. To enter, you must be 18 years of age or older and respond to the "Useful" question at the end of the wellness information. Be honest, if it was not useful, tell us, it will not impact your odds of winning. One entry per person per piece of content. Genesis HealthCare System employees are not eligible. On the first Monday of the months of January - June 2023, we will draw four winners for the previous month and post on our Facebook page and notify them through email. Complete the form below to enter!
Genesis HealthCare System's Health and Wellness content conveniently provides accurate and helpful information. Your health history and current health may impact suggestions provided through our Health and Wellness content. Although we hope this information is helpful, it is not a substitute for your doctor's medical advice. Before making any significant changes, please consult your doctor.