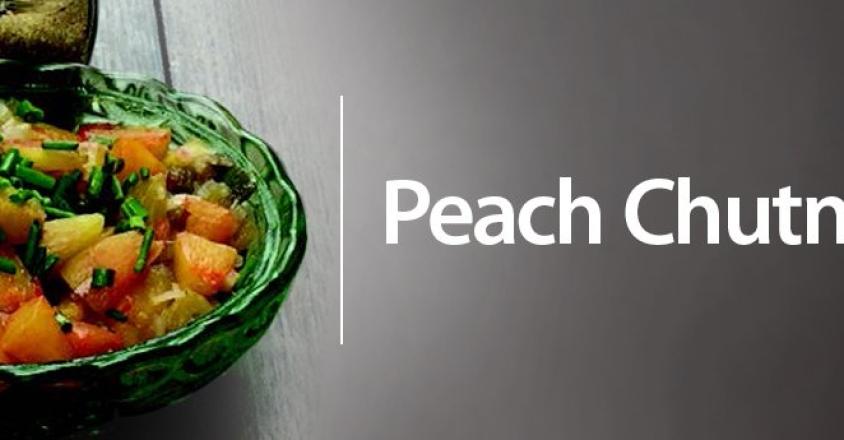 Peach Chutney Recipe
Friday, February 22, 2019
Stone fruit like peaches have been shown to ward off obesity-related diseases such as diabetes and cardiovascular disease. They may also reduce bad cholesterol (LDL).
Ingredients
Makes 4 servings
1½ teaspoons canola oil
1 small jalapeno chili, cored, seeded and minced
1 small garlic clove, minced
1 large shallot, minced
1 teaspoon grated fresh gingerroot
2 cups coarsely chopped peeled peaches (2 medium peaches)*
1½ tablespoons cider vinegar
1½ tablespoons brown sugar
1 dash chipotle chili powder or cayenne pepper
Salt and pepper to taste
1 tablespoon minced chives
* Use fresh peaches in the summer, frozen or water-pack canned peaches at other times of the year. Use peach chutney as a topping for roast chicken breast, tuna or salmon steaks, or over hamburgers.
Directions
Heat canola oil in medium saucepan. Add chili, garlic, shallot and gingerroot and sauté until tender, about two minutes. Stir in peaches, vinegar, brown sugar, chipotle chili powder, salt and pepper. Simmer mixture for 10 minutes or until fruit is tender. Sprinkle on chives just before serving.

Nutritional information
Per serving
Calories 75
Fat 2g
Cholesterol 230 mg
Sodium 85 mg
Carbohydrates 15 g
Fiber 1.5 g
Protein 11.5 g
Download the recipe
Love the recipe? Download and keep a copy: Peach Chutney (PDF)