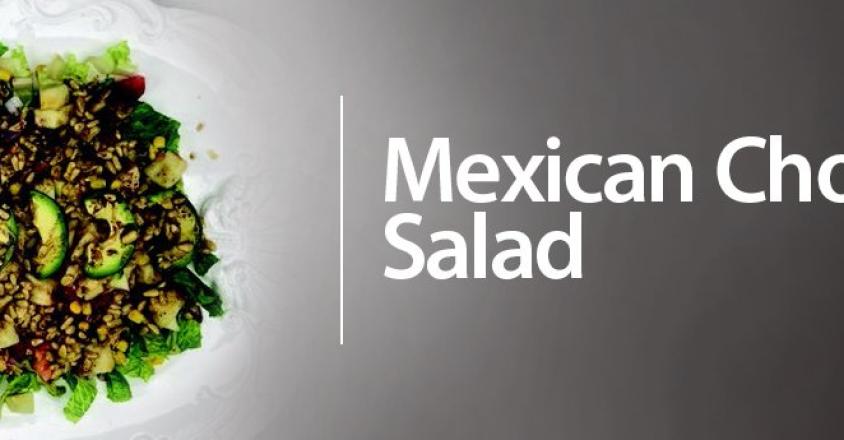 Mexican Chopped Salad Recipe
Friday, February 22, 2019
This delicious salad contains apples and tomatoes, both of which are high in antioxidants and fiber. They are also an excellent source of vitamin C, which can protect your eyesight and help prevent heart disease.
Ingredients
Serves 6
1 small head romaine lettuce, cut into ½ inch wide crosswise strips
2 medium tomatoes, cored, seeded and diced
1 small red onion, chopped
1 medium green apple, peeled, cored and diced
½ cup frozen, thawed corn kernels
1 ½ cups crushed, baked low-fat tortilla chips
1 small avocado, peeled, seeded and thinly sliced
Directions
Dressing recipe
⅓ cup pine nuts
1 teaspoon ground cumin
¼ cup red wine vinegar
½ cup extra-virgin olive oil
Salt to taste (optional)
Freshly ground pepper to taste
Mix all dressing ingredients together. Set aside.
Mexican Salad recipe
Combine the lettuce, tomatoes, onion, apple, corn and tortilla chips in a large bowl. Drizzle with 3 tablespoons dressing. Toss gently but well. Top with avocado slices and serve immediately.
Nutritional information
Per serving (with dressing)
Calories 163
Fat 9g
Sodium 75 mg
Carbohydrates 20 g
Fiber 5 g
Protein 3 g
Adapted from "The Joslin Diabetes Great Chefs Cook Healthy Cookbook," Simon & Schuster, 2002
Love the recipe? Download the recipe: Mexican Chopped Salad (PDF)