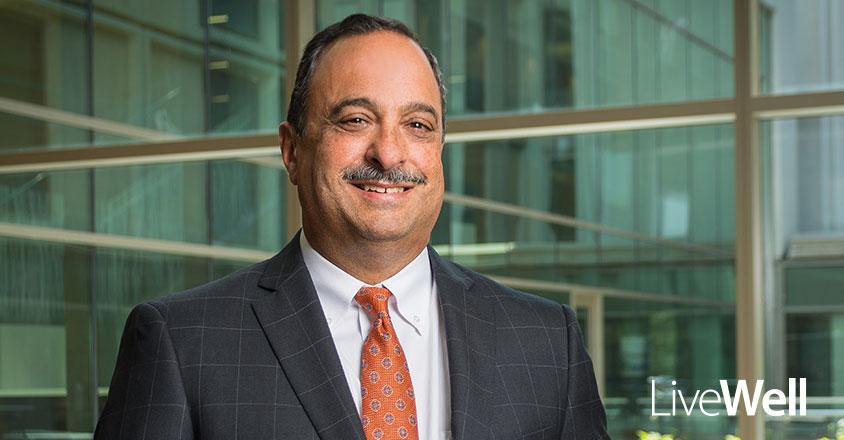 Maximizing technology to maximize health
Friday, July 29, 2022
LiveWell, 25th Anniversary
Why do hospitals invest in the latest and greatest advancements in technology? Is it to increase efficiency? To ensure safety and precision? To reduce pain and improve healing? Well, yes, all of those. But most importantly, the teams at Genesis HealthCare System believe technology enhances compassionate healthcare.
"Some people think that when you start using technology, you lose human touch and human connection, but the opposite is true," said Ed Romito, Chief Transformation Officer at Genesis HealthCare System. "At Genesis, we aim to maximize human connection and health by utilizing the benefits of technology."
Ed began his information technology career with the hospital 27 years ago, just before Good Samaritan and Bethesda hospitals merged to form Genesis. Back then, computer networks were in their infancy, and Genesis initially had only 300 personal computers (mostly used for finance). Today, as Genesis celebrates its 25th anniversary, the organization has approximately 4,000 personal computers, and the technology has grown to impact and improve nearly every touchpoint in patient care.
Pairing technology and hospital care: An Epic undertaking
For the past five years, CHIME (the College for Healthcare Information Management Executives) has recognized Genesis as one of the Most Wired Health Systems. Genesis is also listed on the national Top 100 Places to Work in IT by IDG Computerworld. Both distinguished designations became possible because of innovative technology advancements made during the past 25 years.
"Genesis is a progressive, innovative organization – never stagnant. We're always looking to be the most sophisticated community hospital and use technology to enable safer, faster and better healthcare."
For example, examine our electronic medical system, Epic. It's the best in the world. When we implemented Epic in 2010, Epic was typically only used in large academic medical centers. Still, Genesis decided to move forward and bring this world-class technology to Southeastern Ohio," Ed said. "We are continually innovating, using the best technology that is powered by our phenomenal team of IT professionals, the best in the country."
Our vision is One Patient – One Record. Genesis advanced from paper to electronic medical records to enable a single medical record for each patient allowing quick access to current patient records to every member of the patient's care team and our patients via MyChart. This provides for more coordinated and efficient care. The "epic" undertaking is just one of many advances.
For example, over a decade ago, Genesis invested in robotic-assisted surgical instruments called the da Vinci Surgical System. Bringing robotic technology into operating rooms expanded possibilities beyond what's possible with the human eyes and hands. With 3D high-definition, surgeons see crystal-clear views magnified ten times stronger than the natural human eye. Plus, tiny instruments offer greater control and range of motion than human hands, making less invasive, smoother and more precise movements.
"The da Vinci Surgical System allows us to deliver safer surgical treatment to our patients, enabling shorter recovery times that allow our patients to get back to their normal lives more quickly. It's amazing," Ed said.
Since 2010, Genesis surgeons have completed more than 2,000 surgeries using the da Vinci technology.
Increasing knowledge and health with artificial intelligence
Advancements in technology at Genesis continue moving at a very rapid pace but as the technology increases in capabilities, so does the amount of collected data. To ensure the data is analyzed, organized and used to best help patients, Genesis is enlisting artificial intelligence (AI).
"It's impossible for a human to fully consume and understand the massive amount of information available. So, we're using computers to do what computers do best, analyze and present information in a more usable format– and that allows our teams to focus on the human connection in caring for patients," Ed said.
For example, Genesis uses AI to monitor hospitalized patients on more than 80 data points, like vital signs, lab results, medications, etc. When data points identify potential problems in a patient's health, the AI alerts the medical team so the patient can receive fast, early assistance. "There's no way a person could monitor all 250 patients in the hospital on all these points of health. This kind of AI  provides warning signs and alerts the care team so they can take action before the situation becomes serious," Ed said.
The future looks techy and terrific
In the past 25 years, Genesis has made tremendous investments in state-of-the-art technologies at a very rapid pace and will continue to bring new advanced technology to provide safe, innovative, life-saving technology to southeastern Ohio.
"I believe we'll continue an upward trajectory of healthcare technology. I don't see it stopping or slowing down, which is exciting. I look forward to seeing what happens at Genesis during the next 25 years." Ed said.