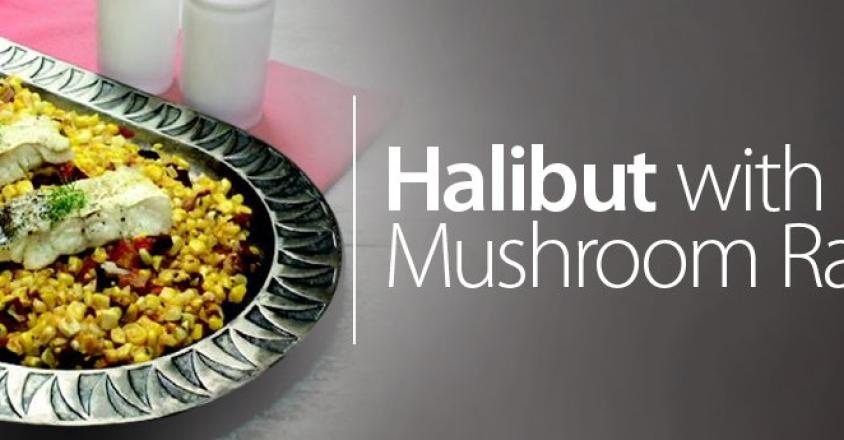 Halibut With Corn and Mushroom Ragout Recipe
The omega-3 fatty acids present in halibut provide a wide range of cardiovascular benefits including improving the ratio of good cholesterol (HDL). Halibut is also a good source of vitamin B12, vitamin B6 and folic acid.
Ingredients
Makes 4 servings
4 (6-ounce) halibut fillets
Salt and pepper to taste
2 tablespoons olive oil
8 ounces' lobster mushrooms, diced very small (see note)
2 shallots, minced
Kernels from 6 ears of corn
1 medium heirloom tomato, diced very small
1 teaspoon fresh minced tarragon
1 teaspoon fresh minced dill weed
1 tablespoon white truffle oil (see note)
Directions
Season halibut with salt and pepper. Lightly coat a large ovenproof sauté pan with oil and heat to smoking point. Carefully Arrange halibut in pan. Place in preheated 375-degree oven for 6 to 8 minutes. Remove and keep halibut hot.
Meanwhile, Heat 2 tablespoons olive oil in large skillet. Add mushrooms, shallots, corn, tomatoes and sauté. Continue to Sauté. When corn is cooked, about 1 minute, add tarragon, dill weed and truffle oil. Season with salt and pepper to taste.
Serve the ragout with the halibut. Note - Lobster mushrooms are available in some specialty food stores and in some farmers' markets. Truffle oil is sold in specialty food stores.
Nutritional information
Per serving (without added salt/pepper)
Calories 435
Fat 16 g
Cholesterol 55 mg
Sodium 121 mg
Carbohydrates 5.5 g
Fiber 2 g
Protein 41.5 g
Love the recipe? Download the Halibut with Corn and Mushroom Ragout Recipe (PDF)