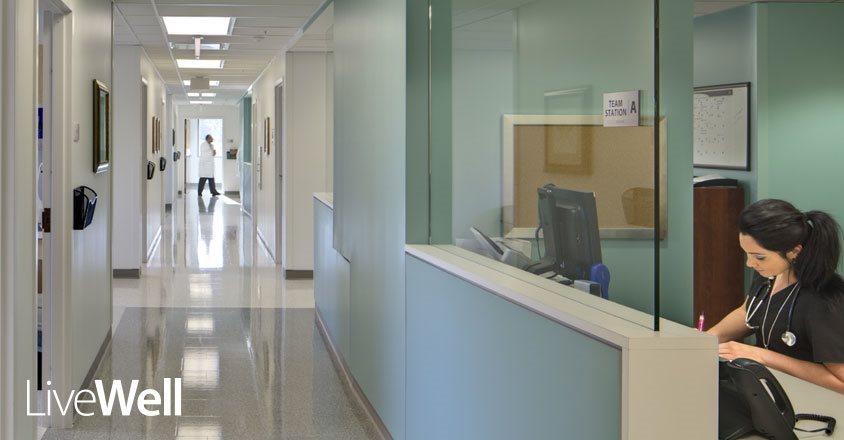 Growing Through the Years for You
Friday, October 28, 2022
LiveWell, 25th Anniversary
Orthopedic and neuroscience care has transformed to a higher level of quality care in the 25 years Genesis has been in existence. Through the years, these two types of healthcare services evolved to be comprehensive programs with physicians and staff dedicated to ensuring you and your family have the best care available, right here at Genesis. 
As the new Genesis Hospital was planned, we met with patients and families to learn what you needed, and the same was true for what was to become the Genesis Neuroscience & Orthopedic Center. The two programs were housed in the same space in the Physician Pavilion. Patients could see their orthopedic, neurology or neurosurgery physicians without needing to enter the main hospital. The continuum of care, from diagnosis to treatment and rehabilitation if needed, became a seamless path, making the experience a smoother one for patients and their families. 
In the seven years since the Neuroscience & Orthopedic Center opened, the Orthopedic and Neuroscience programs have grown immensely. More physicians and advanced practice providers (certified nurse practitioners and physician assistants) joined the teams. This growth enabled us to care for more people from our community. 
We soon realized our growth was only limited by physical space. The answer? Build a new facility for Orthopedics, enabling both programs to continue to grow and provide high-quality healthcare for you. 
New Genesis Orthopedic Center 
The Orthopedic program moved into a new facility of its own in December 2021 at 2904 Bell St., Zanesville. Now all orthopedic providers – surgeons, advanced practice providers and sports medicine surgeons, physicians and athletic trainers – are in one modern, convenient location. Imaging tests can be performed in the center as well as some treatments. A dedicated rehabilitation gym for physical and occupational therapy is in the center, as well as an Orthopedic Walk-in Clinic for those minor injuries and problems. 
Genesis Outpatient Rehabilitation 
Another area that has been growing through the years is Genesis Rehabilitation Services. To meet the increased need for physical, occupational and speech therapy, we opened Genesis Outpatient Rehabilitation in 2020. Located at 3297 Maple Ave., Zanesville, the new facility features welcoming spaces for therapies and programs like Parkinson's disease, women's health, sports therapies and more. There are now five locations for outpatient rehabilitation in our service area, with a sixth opening in the Coshocton Medical Center in the spring of 2023. 
Genesis Neuroscience Center 
When the Orthopedic program moved, the Neuroscience program remained in the same location, now called the Genesis Neuroscience Center. The team of neurosurgeons, neurologists, advanced practice providers and support staff remain dedicated to providing the best neurological care possible to you and your family. An example of this dedication and commitment is the purchase of ORBEYE, a 4k-3D video microscope system that shows high resolution images on large video screens during surgery. Neurosurgical patients benefit from the use of this technology. 
Looking to the future 
Our Orthopedic and Neuroscience programs have come a long way in improving the quality of care we give you and your family. We appreciate that you and your family rely on us for high-quality care. We will continue to build on our promise – our mission – to you and our communities for the next 25 years and beyond.