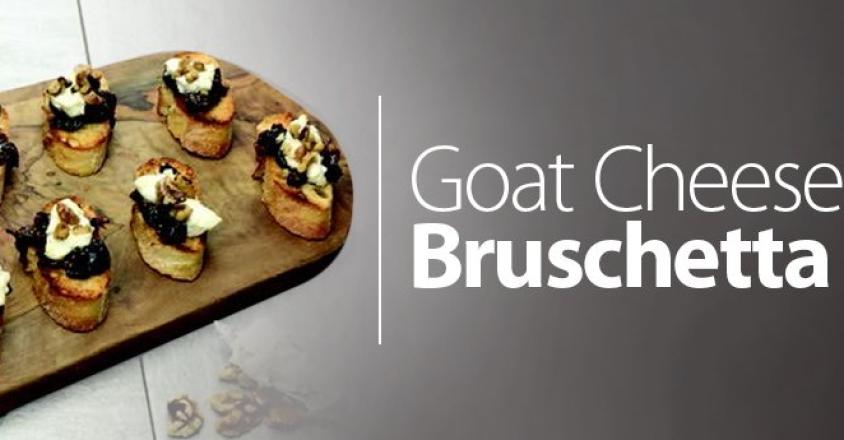 Goat Cheese and Fig Bruschetta Recipe Recipe
Figs are an excellent source of fiber and can help aid digestion. Try this easy to make Goat Cheese and Fig Bruschetta, and they will be the hit of the table. 
Ingredients
1 ¼ cups chopped, dried Mission figs (about 9 ounces)
⅓ cup sugar
⅓ cup coarsely chopped orange sections
1 teaspoon grated orange rind
⅓ cup fresh orange juice (about 1 orange)
½ teaspoon chopped fresh rosemary
¼ teaspoon freshly ground black pepper
4 (½ inch-thick) slices French bread baguette, toasted
1 ¼ cups (10 ounces) crumbled goat cheese
5 teaspoons finely chopped walnuts
Directions
Combine first 7 ingredients in a small saucepan; bring to a boil. Cover, reduce heat, and simmer 10 minutes or until figs are tender. Cook five minutes or until mixture thickens. Remove from heat; cool to room temperature.
Preheat broiler.
Top each bread slice with 1½ teaspoons fig mixture and 1½ teaspoons goat cheese. Arrange bruschetta on a baking sheet; sprinkle evenly with walnuts. Broil two minutes or until nuts begin to brown. Serve warm.
Nutritional information
Per serving, 2 slices
Calories 138
Fat 4.7 g
Saturated fat 2.3 g
Cholesterol 7 mg
Sodium 121 mg
Carbohydrates 21 g
Fiber 2.1 g
Protein 4.2 g
Calcium 45 mg
Love the recipe? Download the Goat Cheese and Fig Bruschetta Recipe (PDF)