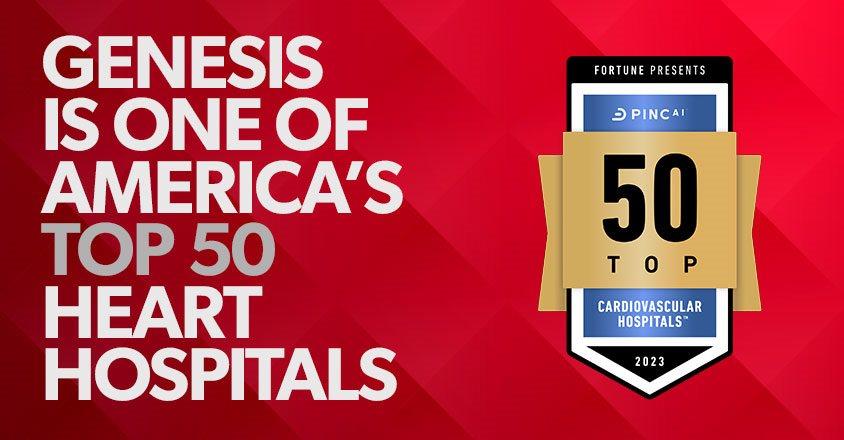 Genesis is One of America's Top 50 Heart Hospitals
This is just the beginning 
In the spring, Fortune Magazine/PINC AI, a healthcare improvement technology company, announced Genesis was one of America's top 50 heart hospitals.  
It was a great day for our team and community.  
It was a moment to reflect on the advancements our team has made in recent years. One milestone was the creation of the Genesis Heart & Vascular Institute.  
This model formed a foundation for future success and increased collaboration among heart physicians and team members to discuss and implement the best solutions for heart patients.  
In addition, our heart team introduced several innovative heart care techniques. Our doctors became experts in minimally invasive and robotic-assisted procedures to provide the best care, reduce healing time and minimize disruption to our patients' lives. 
As our community continued to trust us with their heart care and trust us with their lives, the results were noticed and acknowledged by Fortune Magazine/PINC AI. 
Where we are going next 
In support of our mission to help each patient achieve optimal health, we continually improve our services. We recently moved our Coshocton Heart & Vascular care into our new Genesis Coshocton Medical Center so surrounding community members would have access to the best heart care in a modern facility. 
We continue to recruit experienced doctors who were educated at the best universities in the world to our award-winning teams. Trevor Ellison, M.D., Ph.D., MBA, a Board-certified and Fellowship-trained Cardiothoracic Surgeon who trained at Johns Hopkins University and Hospital, joined the Genesis Heart & Vascular Institute as Medical Director of Cardiothoracic Surgery. Edmund Kassis, M.D., a Board-certified and Fellowship-trained Thoracic Surgeon who also studied at Johns Hopkins University, joined the Genesis Heart & Vascular Institute as Medical Director of Thoracic Surgery. 
We will continue to add innovative services as they become available and ensure our doctors have the training to be experts. We believe it is vital that our communities have the best care, and the best doctors, close to their homes. 
Most importantly, we thank our team for their desire to be the best and our community for their trust. Without you, this achievement would not be possible. 
Visit genesishcs.org/heart to learn more.