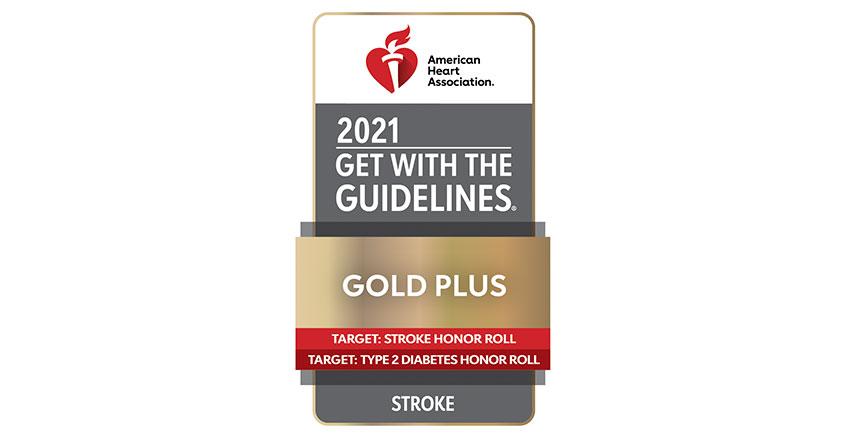 Genesis HealthCare System Receives Stroke Awards
Tuesday, September 14, 2021
Genesis HealthCare System received the American Heart Association/American Stroke Association's Get With The Guidelines®-Stroke Gold Plus award with Target: Stroke Honor Roll and Target: Type 2 Diabetes Honor Roll. These awards recognize the healthcare system's commitment to ensuring stroke patients receive the most appropriate treatment according to nationally recognized, research-based guidelines. This is the seventh consecutive year for the Stroke Gold Plus with Honor Roll Award, and the second consecutive year for the Type 2 Diabetes Honor Roll Award.
"Genesis HealthCare System is committed to providing high-quality care for our stroke patients by implementing the Get With The Guidelines-Stroke initiative," said Bryan Bjornstad, M.D., Genesis Neurology Group. "Timeliness is imperative when patients are having a stroke. Our team works diligently to ensure patients quickly receive the highest level of care."
Genesis earned the award by meeting specific quality achievement measures for the diagnosis and treatment of stroke patients at a set level for a designated period. These measures include evaluation of the proper use of medications and other stroke treatments aligned with the most up-to-date, evidence-based guidelines with the goal of speeding recovery and reducing death and disability for stroke patients. 
Genesis also received the Target: StrokeSM Honor Roll award. To qualify for this recognition, hospitals must meet quality measures developed to reduce the time between the patient's arrival at the hospital and treatment with the clot-buster tissue plasminogen activator, or tPA, the only drug approved by the U.S. Food and Drug Administration to treat ischemic stroke. 
Additionally, Genesis HealthCare System received the Target: Type 2 Honor Roll award. To qualify for this recognition, hospitals must meet quality measures developed with more than 90% compliance for 12 consecutive months for the "Overall Diabetes Cardiovascular Initiative Composite Score."