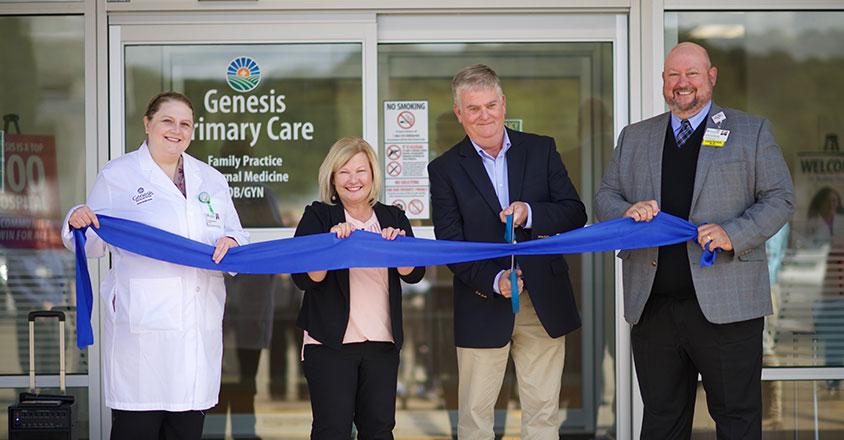 Genesis HealthCare System Opens New Coshocton Office
Wednesday, September 14, 2022
Genesis HealthCare System celebrated the opening of a new Genesis Physician Services office in Coshocton, Ohio, on Tuesday, Sept. 13. The Coshocton County Chamber of Commerce led the ribbon-cutting ceremony, followed by tours of the new office and opportunities to meet the new Genesis Primary Care physicians and staff.
"We are excited to open a new location for Coshocton area residents to access the high-quality healthcare Genesis provides," said Scott Wegner, M.D., Genesis Chief Medical Officer and President of the Genesis Medical Group. "Together with the Genesis Primary Care office on Main Street in Coshocton, opening this new office demonstrates our continued dedication to the healthcare needs of the Coshocton community."
Elise Sadoun, M.D., and Sameera Rahman, M.D., family medicine doctors, are now accepting new patients at this office, with Audrey Onuzo, M.D., expected to join the practice soon. In the coming months, other Genesis providers and services will be offered at the new office. To make an appointment for Dr. Sadoun or Dr. Rahman, call 740-722-9510.
Pictured above: left to right are Dr. Elise Sadoun, Genesis Primary Care; Amy Crown, Coshocton County Chamber of Commerce; Dr. Scott Wegner, Genesis Chief Medical Officer and President of Genesis Medical Group; and Chris Schoelles, Chief Operating Officer of Genesis Physician Network.