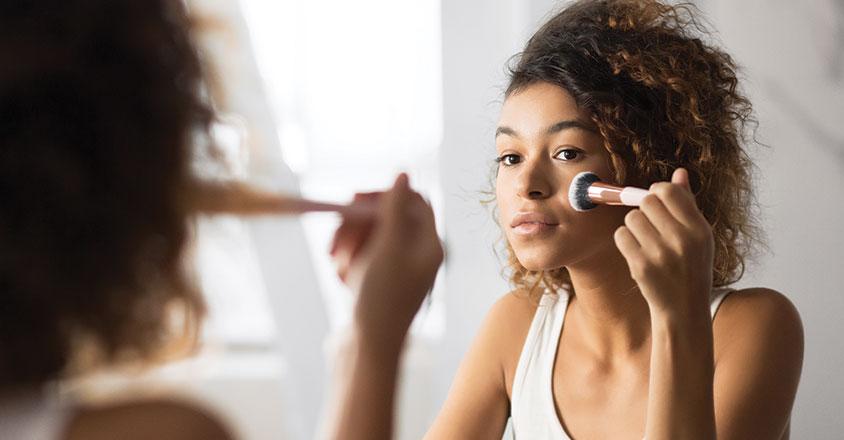 Does Your Makeup Get a Glowing Review?
Walking down the makeup and personal care aisles at the grocery or department store can be an overwhelming experience due to the wide array of products all claiming multiple benefits. Follow these guidelines for a safer beauty routine. 
Say no to knockoffs 
Though the price may be attractive, buying a knockoff product can produce ugly results. Knockoffs are illegally produced products that sometimes make their way into retail, particularly through independently owned businesses and online sellers. These products can look like the real thing, so they may seem like a good value. Make sure to buy cosmetics from authorized retailers and beware of online deals from unauthorized sellers. 
Is the SPF in your makeup enough? 
Many cosmetics boast SPF protection in addition to their regular benefits, but is it enough? Experts recommend wearing sunscreen daily under your makeup. A good rule of thumb is to keep your sunscreen between 15 and 50 SPF for the greatest protection without too many unwanted chemicals. 
There are toxins where? 
Due to loopholes in U.S. law, cosmetics companies are largely unregulated and have no limits on the amounts of chemicals they can use in their products. Companies are also not required to do any safety testing or to monitor health effects of their products, and labeling and marketing requirements are insubstantial. 
Avoid fragrance 
Avoid anything with "fragrance" or "parfum" listed as an ingredient. Companies do not have to disclose the chemicals used in these fragrances, many of which have been linked to allergies, respiratory distress and even effects on the reproductive system. 
Time to toss? 
Cosmetics and personal care products expire just like food, but often the expiration date is based on when you open a product rather than its age. Over time, bacteria levels climb in your beauty care products due to air exposure and general use. 
Never share 
Never share your makeup or use testers at cosmetic counters. Also, do not add water or saliva to makeup as this can increase the bacteria in the product. Don't forget to keep 
cosmetic containers tightly closed, store them in a cool, dry area, and watch for any signs of separation or odor. 
Sources: safecosmetics.org; nsf.org; webmd.com; fda.gov; ewg.org; abcnews.go.com; everydayhealth.com
Genesis HealthCare System's Health and Wellness content conveniently provides accurate and helpful information. Your health history and current health may impact suggestions provided through our Health and Wellness content. Although we hope this information is helpful, it is not a substitute for your doctor's medical advice. Before making any significant changes, please consult your doctor.