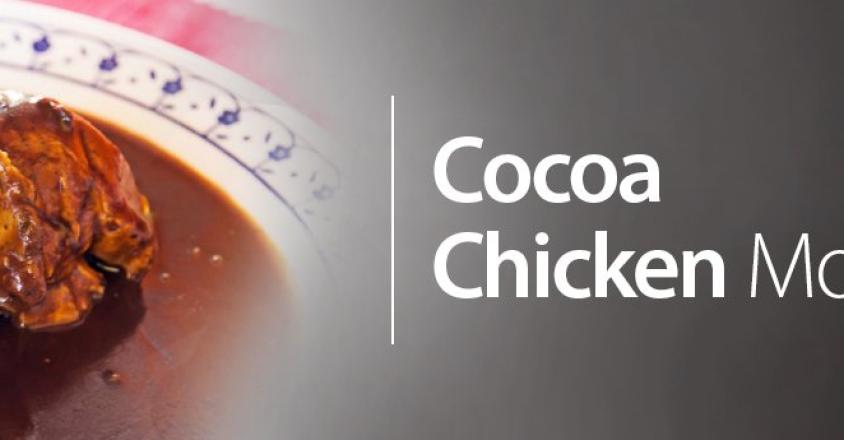 Cocoa Chicken Mole Recipe
Easy Coca Chicken Mole is one of our favorite Mexican chicken recipes to make any time of year. Traditional recipes can take several hours to prepare. This 30-minute version takes a few shortcuts by using chipotle chilies in adobo sauce and cocoa powder. Serve with a side of rice and a medley of sautéed vegetables.
Ingredients
Makes 4 (1¼ cup) servings
3 boneless, skinless chicken thighs, cut into bite-size pieces
1 small red onion, chopped
1 medium garlic clove, minced
1 medium red bell pepper, cored, seeded and chopped
½ cup chicken broth
1 (14.5-ounce) can no-salt added, diced, roasted tomatoes
1 (15-ounce) can pinto beans, drained and rinsed
2 canned chipotle chilies in adobo sauce, minced
2 teaspoons natural unsweetened cocoa powder
¾ teaspoon ground cumin
½ teaspoon salt
¼ cup reduced-fat sour cream
¼ cup minced scallions
Directions
Spray oil in large, heavy-bottomed pot. Add chicken and brown over medium high heat, about 3 minutes. Remove chicken; set aside. Spray oil again. Add onion, garlic and bell pepper to pot.
Sauté for 7 to 10 minutes, until vegetables are tender, stirring frequently. Pour in broth and stir up browned bits in pot. Stir in tomatoes, beans, chilies, cocoa, cumin and salt. Cover pot; reduce heat to low and simmer 30 minutes.
To serve, spoon into 4 shallow bowls. Top each serving with 1 tablespoon each of sour cream and scallions.
Nutritional Information
Per serving
Calories 267
Fat 9 g
Cholesterol 146 mg
Sodium 586 mg
Carbohydrates 26 g
Fiber 7 g
Protein 36.5 g
Love the recipe? Download the Cocoa Chicken Mole Recipe (PDF)