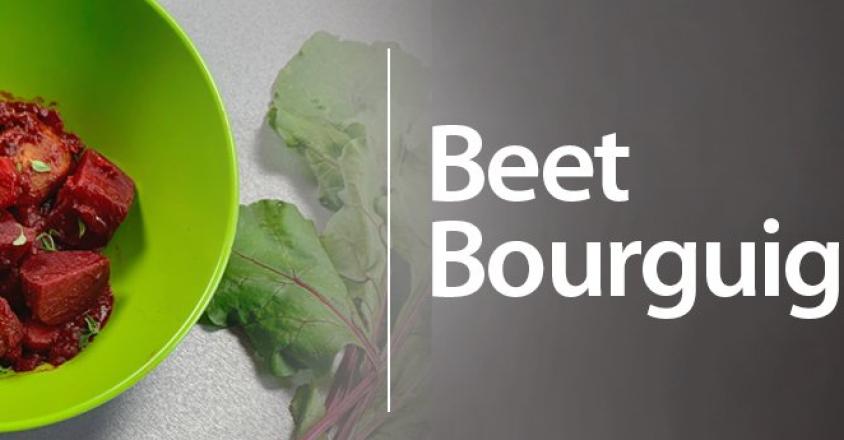 Beet Bourguignon Recipe (Video)
Beets are a heart-healthy superfood. Replacing the traditional beef with beets makes this recipe lower in cholesterol and fat. Beets have been shown to reduce inflammation, improve heart function, lower high blood pressure and are an antioxidant powerhouse.
Ingredients
Makes 4 servings
4 tablespoons extra virgin olive oil
1 medium onions, diced
4 clove garlic, crushed
8 small beets, peeled & quartered
4 medium carrots, chopped into chunks
2 sprigs of thyme
2 tablespoons tomato paste
1 cup red wine
2 cups unsalted vegetable stock
3 bay leaves
3 Portobello mushrooms or 10 white mushrooms
10 small pearl onions or 1/2 cup of sweet onion, quartered
Add salt and pepper to taste
Directions
Heat 2 tablespoons olive oil in a large pot and then stir in diced onions and garlic, sauté until soft.
Toss beets, carrots, thyme into the pan, cook for 5 minutes, stirring occasionally.
Stir in the tomato paste, red vine, vegetable stock and bay leaves, let simmer on low heat for 40 minutes.
Meanwhile, prepare the mushrooms and pearl/sweet onion. Heat the olive oil in a pan, lower the heat and sauté, until tender and golden in color. Set aside.
Before serving:
Taste the stew and add more wine, stock or herbs if you like. If you prefer the stew a little thicker, add a tablespoon of flour dissolved in water as an optional. Remove bay leaves.
Add mushrooms & pearl/sweet onions to stew and simmer for 10 more minutes.
To serve, spoon the stew over rice or lentils and sprinkle with fresh thyme.
Nutritional information
Per serving
Calories 350.6
Fat 15g
Cholesterol 0 mg
Sodium 279.5 mg
Carbohydrates 47.1g
Fiber 11.1 g
Protein 8.1 g
Download the recipe
Love the recipe? Download the Beet Bourguignon (PDF)