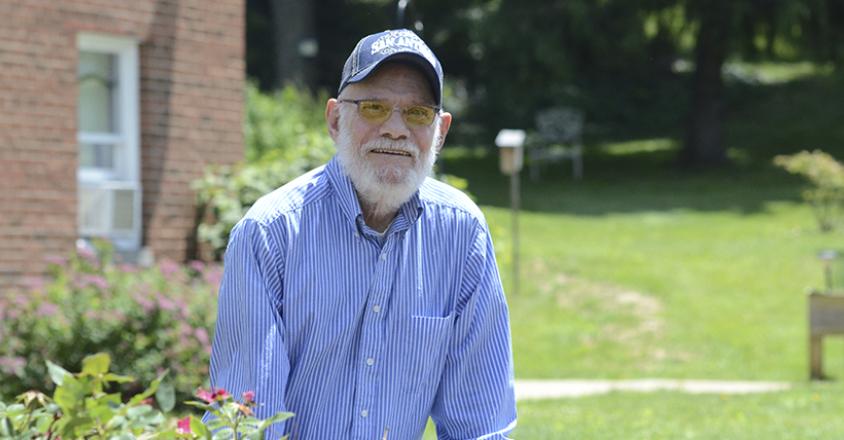 Complex COPD Patient Finds Relief With Palliative Care
Friday, September 21, 2018

|
Isolated senior receives medical care, housing and support
Franklin Beaver's health was not good. He had been hospitalized for severe Chronic Obstructive Pulmonary Disease (COPD). "When we first met him, he was in really bad shape," said Donna Lewis, Advanced Practice Nurse, Clinical Nurse Specialist (APRN-CNS), Genesis Palliative Care.
The 75-year-old was basically homebound and living in a place that had standing water – making his breathing problems worse. "He was a gentleman at home not knowing what his future held because he did not have access to the care he needed," said Erin Remster, D.O., medical director, Genesis Palliative Care.
Providing care to patients with no transportation, support
While in Genesis Hospital, Franklin was referred to the Palliative Care Home Program by a hospitalist (a doctor who cares for patients in the hospital). The Palliative Care Home Program was developed for patients, like Franklin, who might have barriers to access to care.
Palliative Care helps patients manage the symptoms and stress that come with some serious illnesses such as advanced lung disease, heart disease or cancer. "Our Palliative Care Home Program was designed to meet the needs of patients who are unable to attend regular office visits due to the severity of illness or complex transportation issues," Dr. Remster said. "We're able to identify needs when we visit patients in their home environment that contribute to their health such as daily routines, access to medications, and presence or lack of family/friend support."
Gaining strength to carry on with daily life
The Palliative Care Home Program's team of doctors, advanced practice nurses and social workers collaborated to help Franklin get the care he needed. Social Worker Rachel Watson's goal is to connect patients with the most appropriate resources to allow them to live a more productive life. "Franklin struggled with lack of socialization which affected his motivation to improve and led to frequent exacerbations of his COPD symptoms," Watson said.
The social workers helped Franklin learn the importance of an active lifestyle to improve his overall well-being. "Franklin's new passion and willingness to better his own life has helped him gain access to care and receive community resources. His friendly smile and thankfulness have reminded the entire Palliative Care team the importance of this program," Watson said.
Help figuring out medical bills and housing
With the help of the Palliative Care team, Franklin moved into an independent living facility in Zanesville, and less than a year after being in the Palliative Care Home Program he enjoys playing bingo, winning prizes and going outdoors.
Before being helped by the Palliative Care team and the Genesis Lung Clinic, Franklin's breathing problems hadn't been addressed properly and his health was decreasing. "This is the first time I've received the care I've needed, and I'm grateful," Franklin said. He was paying about $500 out-of-pocket costs for medications that are now covered through the 340B Medication Assistance grant program (Genesis Lung Clinic). Along with helping Franklin obtain medications for his breathing problems, he quit smoking. "I was a smoker for 60 years. When I was in the hospital on a breathing machine, I prayed to the Lord to get me out of here, and I would quit smoking. And I did."
What would have happened to Franklin if he hadn't participated in the Genesis Palliative Care Home Program? "I'd probably be six feet under," Franklin said. He appreciates the difference the care has made in his life. "This is the best place to be. I've been in several hospitals in Ohio and received outpatient care, and none of the other places did for me what they've been able to do for me here."