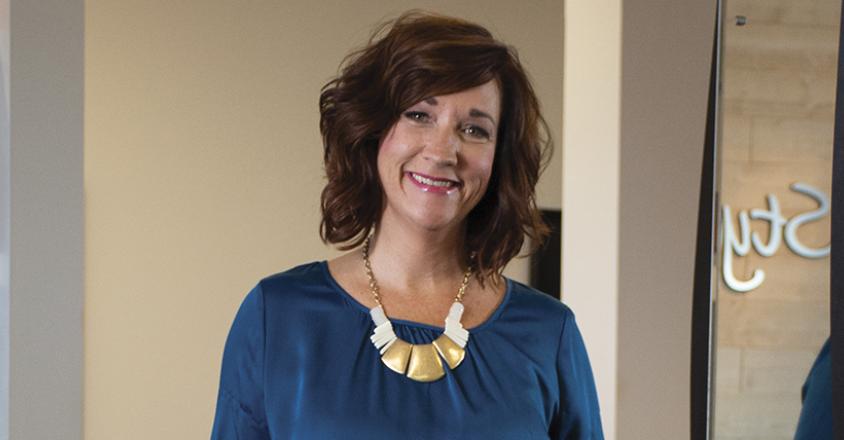 Surgeon Repairs 3 Hernias in Single Robot-Assisted Surgery
Thursday, August 1, 2019

|
Salon owner is back to work in 10 days
Tina Cummings owns a bustling salon and spa in Zanesville and didn't have time for a lengthy surgery and recovery. Who does, really? But the pain in Tina's abdomen couldn't be ignored any longer. She had already parked her beloved mountain bike she enjoyed as a hobby, stopped doing yoga, and had even limited her everyday physical movements.
"I'm busy, so I just kept putting it off. I didn't even realize how much I had cut my physical activity. After about a year of that, I got a bad cold, was coughing a lot, and then I could really feel the bulging. I had to deal with it," Tina said.
Tina suspected that a hernia was causing her bulging abdomen. She was right. Once confirmed by her family physician, she began asking clients and friends if they had any recommendations for a hernia repair surgeon. Repeatedly, she heard about Adam Rothermel, M.D., general surgeon and director, Genesis Center of Surgical Excellence.
"They said they'd totally trust him, so that's who I went to see," Tina said. "At first, I learned I had one hernia, then Dr. Rothermel did a physical exam and I had three hernias. He also told me about a surgical option that would allow me to return to work much faster than I anticipated."
Choosing the right surgical option for hernias
Tina suffered from bilateral inguinal hernias (meaning on each side of her groin) and an umbilical hernia. Those types of hernias are most likely present at birth and can slowly grow with strenuous activity and pressure to the abdomen.
Hernias involve an organ or tissue bulging through muscle or tissue that holds it in place. To repair the weakness in the abdominal wall, surgeons can either perform traditional (open) surgery, a minimally invasive laparoscopic surgery, or an innovative robot-assisted surgery.
"I knew Tina would be an excellent candidate for our robot-assisted surgery because she's young, healthy, hasn't had other hernia surgeries. And I also knew how important it was to Tina to have a speedy and complete recovery, so she could return to the lifestyle she enjoys," Dr. Rothermel said.
Smaller incisions, quicker recovery with robotic surgery
With the surgical robotic system, Genesis surgeons can offer triple hernia repair during just one procedure, with small, half-inch incisions – providing patients like Tina a speedy return to full activity. Not only did it seem like the most logical choice to Tina, the quick recovery made a tremendous difference in that chapter of her life.
"I told Tina that usually patients recover from robot-assisted surgery with full activity within two weeks of the procedure. On the other hand, traditional surgery, repairing all three hernias at one time, would be too much for a patient to handle in terms of pain and recovery. So for Tina, she would have had two or three traditional hernia repair surgeries, with four-week recovery times for each procedure," Dr. Rothermel said. The robotic surgery offers other benefits too, like reduced bleeding, less pain, decreased risks of infection and lower incidences of chronic pain.
During the procedure, the surgeon sits near the patient in a console that provides 3D visualization of the patient's organs and tissues. The surgeon performs the procedure by utilizing a device that maneuvers the robot's arm and its attached instruments. The arm moves over the patient, and the instruments can articulate with movements as agile as the human wrist and with exact precision.
Robotic surgery - exciting technology for patients and surgeons
Robot-assisted surgeries have recently become available in general surgeries like hernia repair, colon resections and gallbladder removal. "Five years ago, robotic surgery still contained the question of, 'Is there really a benefit for general surgery?' Now the answer is a clear and resounding – yes. The benefits stand out significantly, and I see this as the future of general surgery," Dr. Rothermel said.
Tina underwent her robot-assisted triple hernia repair procedure in spring 2018, and within 10 days she returned to her beloved work on "light duty." Within four weeks of the surgery, she had fully recovered and was back at the salon and spa at full speed.
"My confidence in Genesis quadrupled during this experience," Tina said. "The nurses and techs gave me personalized care and attention. They were amazing. Dr. Rothermel continuously came to check on me, and he's genuinely concerned about his patients. Thanks to their care, I'm back to 100 percent now."
Surgical procedures available at Genesis
Our highly-skilled surgeons have been performing robot-assisted surgeries for years. A robotics platform allows our specially trained surgeons to perform minimally invasive surgeries.
The da Vinci Surgical System® provides physicians enhanced detail and precision while allowing operation through small incisions. The robot can only move with the surgeon's direct input and own movement. Procedures performed with robotics assistance include hysterectomy, gallbladder removal, several types of hernia repair and bowel resections.