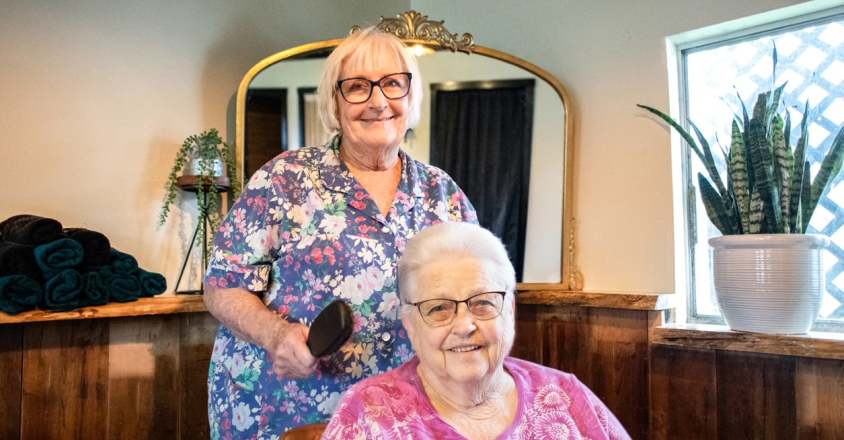 New Wound Care Product Keeps Lifelong Friends Going Strong
Wednesday, January 25, 2023

|
In August of 2021, Mary Mitchell was referred to the Genesis Wound Care Center for help with a wound that would not heal. "I had skin cancer removed from my ankle a while back," Mary said. "Afterward, the wound would drip. I didn't think it was ever going to end."  
No one wants to wait for a wound to heal, but in Mary's situation, a lengthy process is not unusual. Like many patients with the same condition, Mary endured many attempts to fix the problem, including skin grafts. Her daughter had to change the dressings up to four times a day. 
Progress was slow and, in the long run, unsuccessful. "A few times, it was coming along," Mary said. "I saw a little bit of skin slowly starting to cover the wound, but then it would stall."  
Then Samuel W. Zerkle, D.O., a Board-certified Emergency Medicine and Wound Management physician at Genesis HealthCare System's Wound Care Center, proposed a new approach.  
A new product 
Dr. Zerkle suggested a new product that was getting excellent results at the Wound Center. "It's similar to the skin graft substitutes we currently use, but this graft is made from the patient's blood using an ActiGraft kit," he said. "Current skin substitutes are bioengineered with living cells from an outside source. A blood clot made from the patient's blood optimizes the body's healing process."  
Mary said everyone saw the difference in healing once ActiGraft was in use. "Dr. Zerkle said he saw it the first week. I saw it a little bit the second week, and by the third week, I could feel the difference."  
Mary said that she's always been the type of person who believes, "If you can't change it, don't worry about it." That became harder to do as her wound grew. She took comfort in knowing that Dr. Zerkle and the staff at the Wound Center seemed as concerned as she was. "I know Dr. Zerkle was talking to doctors around the country about ActiGraft."  
Mary said they all kept working toward a solution—the doctors, nurses and everyone that worked in the office. "They treated me like family, and it's done wonders for me." 
A friendly referral  
Every Friday, Mary goes to a salon for her hair appointment. After 50 years, her beautician, Janet Cox, is a dear friend whom Mary was happy to refer to the Wound Care Center. "Janet had been having some health problems, including a wound on her knee," Mary said. "She also worked with Dr. Zerkle, loved the staff, and is going strong."