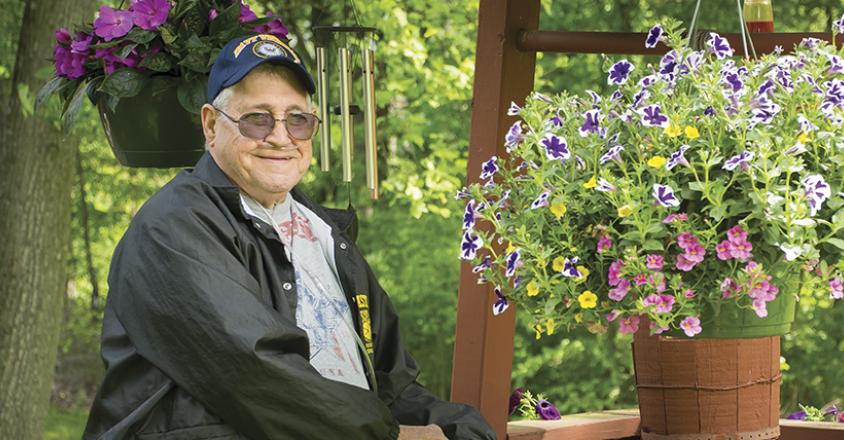 Factory Worker With COPD Now Enjoys Fishing, Gardening
Thanks to pulmonary rehab
David Mummey has suffered from Chronic Obstructive Pulmonary Disease (COPD) for many years. So when his physician, Emily Brawner, D.O., FCCP, pulmonary critical care, suggested he start pulmonary rehabilitation through the Genesis Black Lung Program, he wasn't sure it would help. David's mother and brother died as a result of complications from COPD, so he didn't think the program would improve his condition.
David stopped using tobacco several years ago but figured that 50 years of smoking cigarettes and working in dusty factory jobs had taken its toll on his lungs. Even so, he decided to give pulmonary rehab a try. "I was short of breath and just sat around. I was at the point I couldn't put out a garden or do anything," David said.
Give It a Try
He started phase II Pulmonary Rehab in spring 2014 three times a week at the cardiac/pulmonary rehab gym on the Bethesda Campus. The pulmonary rehab program is medically supervised and includes exercises to improve physical fitness, breathing techniques and strategies for managing COPD.
David admits the physical exercises weren't easy. He didn't notice an immediate improvement but continued through the program. The respiratory therapists encouraged him to stick with it. "Ashlee Clark is an angel," he said. "I tended to push myself hard. If I started to struggle, she was right there." After several weeks, his breathing and stamina improved markedly. "It's made a big difference in my life. I have been able to do things I wasn't able to do before."
A Changed Life
David is able to go fishing with his daughter and grandchildren. He's also been able to plant a vegetable garden – a task he couldn't accomplish before starting pulmonary rehab. He completed phase II pulmonary rehab three times a week and is now doing phase III twice a week.
David is grateful for the care he receives through the Genesis Black Lung Program. "It's changed my life. I'd be afraid to stop now. If I miss one time, I notice a big difference," he said.
He's glad he took the first step to enroll in the program. "If I hadn't started pulmonary rehab, I might not be here today," David says.