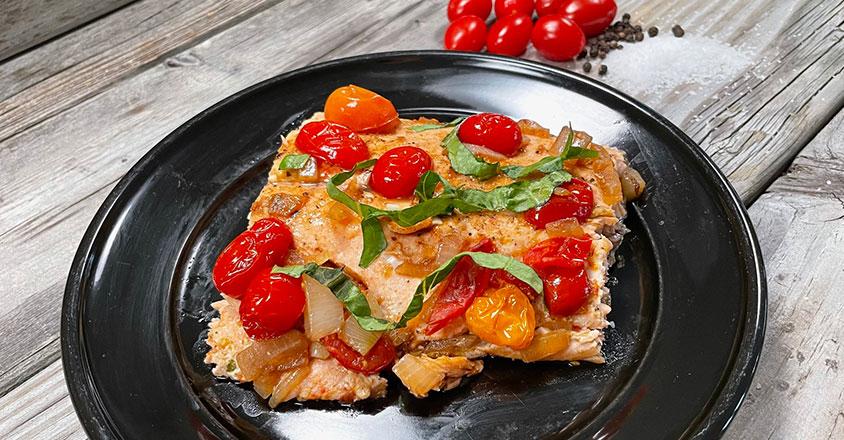 (Video) Recipe: Salmon & Melting Cherry Tomatoes
Salmon is one of the most nutritious foods on the planet, loaded with nutrients, like omega-3 fatty acids, which may reduce your risk factors for disease. Perfect summer weeknight meal to take advantage of vitamin-packed summer tomatoes. 
Serves 4 
Ingredients: 
Extra-virgin olive oil 
1 cup chopped sweet onion, such as Vidalia 
2 teaspoons minced garlic (2 cloves) 
2 cups (1 pint) cherry or grape tomatoes, halved through the stem 
Kosher salt and freshly ground black pepper 
1 ½ tablespoons good balsamic vinegar 
1 ½ tablespoons julienned fresh basil leaves 
1 (2-pound) salmon fillet, cut crosswise into 4 pieces 
Directions: 
To make the salmon: Preheat the oven to 425 degrees F. 
Heat 3 tablespoons of the olive oil in a medium (10-inch) sauté pan. Add the onion and sauté over medium-low heat for 5 minutes, stirring occasionally, until very tender but not browned. Add the garlic and sauté for 1 minute. Stir in the tomatoes, 1 teaspoon salt, and 1/2 teaspoon pepper and cook over medium-low heat for 10 to 15 minutes, stirring occasionally, until the liquid evaporates and the tomato sauce thickens slightly. Off the heat, stir in the vinegar and basil. 
Meanwhile, place a large (12-inch) cast-iron pan over high heat for 5 minutes. Brush the salmon all over with olive oil, sprinkle liberally with salt and pepper and place it skin side up in the pan. Cook the fish for 3 to 4 minutes without moving them, until browned. Turn the salmon skin side down with a small metal spatula and transfer the pan to the oven for 8 minutes. (The salmon will not be completely cooked through.) Remove the fish to a serving platter, cover with aluminum foil, and allow to rest for 5 minutes. 
Reheat the tomatoes, season to taste and serve hot, warm, or at room temperature along with the salmon. 
Nutritional information (per serving)  
Calories 279 
Fat 18g 
Carbohydrates 4.7g 
Fiber 1g 
Sugar429mg 
Protein 14g