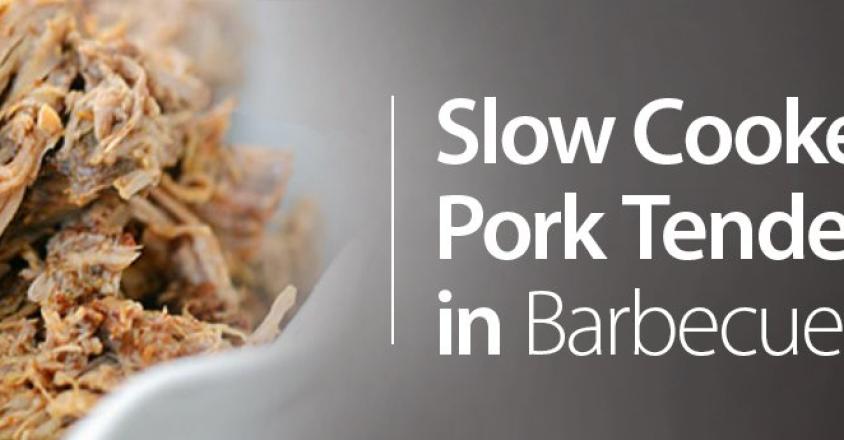 Slow Cooker Pork Tenderloin in Barbecue Sauce
After a long simmer in a slow cooker, lean pork tenderloin shreds when sliced. Scoop up the pork with its hot-sweet sauce and serve plain, over baked potatoes or in a bun with coleslaw.
Ingredients
Makes 6 servings
¾ cup sweet and smoky low-sodium barbecue sauce
¾ cup unsweetened apple juice
1 - ½ tablespoons apple cider vinegar
1 tablespoon brown sugar
¼ teaspoon smoked hot paprika
1 small onion, finely chopped
1 (1 - ½ pound) pork tenderloin, trimmed of visible fat
1 garlic clove, smashed
Directions
In a bowl, stir together barbecue sauce, apple juice, vinegar, sugar and paprika. Stir in onion. Rub pork tenderloin with garlic clove; discard leftover garlic.
Pour half the sauce into a 5-quart slow cooker. Top with pork tenderloin. Pour remaining sauce over pork.
Cover. Cook at low setting for 5 to 6 hours. (Meat thermometer inserted into pork should read at least 145 degrees.) Remove pork from slow cooker, but don't turn off slow cooker. Let pork rest for 3 minutes. Slice pork into ¼¼-inch thick slices. Meat will break into thick chunks. Return to slow cooker and let soak in the sauce for 3 to 5 minutes.
Nutritional Information (per serving)
Calories 230
Fat 4 g
Cholesterol 72 mg
Sodium 270 mg
Carbohydrates 19 g
Fiber 0 g
Protein 26 g
Love the recipe? Download the Slow Cooker Pork Tenderloin in Barbecue Sauce Recipe (PDF)