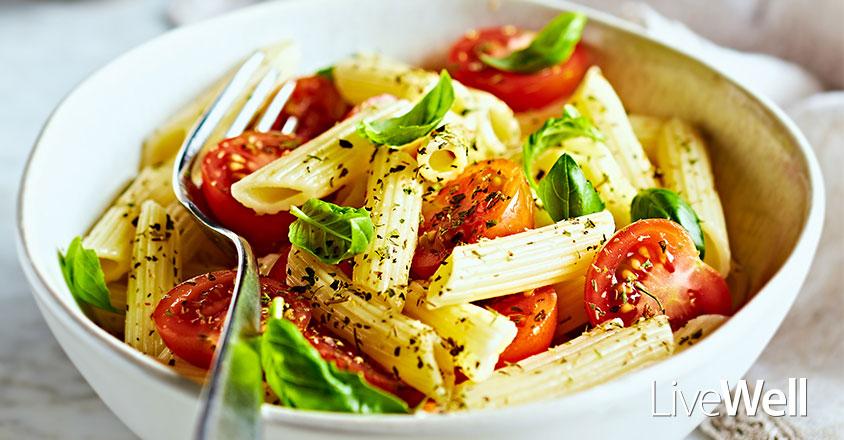 Recipe: shrimp and pasta salad
Enjoy this delicious pasta salad that is a good source of protein and rich in antioxidants.
Ingredients:
 
6 ounces cooked whole-wheat penne pasta, kept warm
• 1 cup of cooked corn
• 1 medium tomato, diced
• 1/2 pound medium shrimp (cooked and peeled)
• 1/2 tablespoon white wine vinegar
• 1/2 teaspoon salt
• 1/4 teaspoon pepper
• 1/8 teaspoon red pepper flakes (optional)
• 3 tablespoons olive oil
• 1/2 cup shredded fresh basil leaves
Directions:
Use medium shrimp (about 36 to 40 shrimp per pound), cleaned and deveined. Cook shrimp with one tablespoon of olive oil in a hot skillet. The shrimp is fully cooked when it's pink in color and opaque. This takes approximately four to five minutes, depending on the size. Remove from skillet.
Cook pasta according to directions. Combine pasta, corn, tomato and shrimp in a large salad bowl. Stir vinegar, salt, pepper, basil and red pepper flakes together in a cup. Add the remaining tablespoons of olive oil, pour over the salad and toss gently.
Serves 4
Nutritional information (per 8 oz serving)

• Calories: 240
• Total fat: 8 g
• Carbohydrates: 37 g
• Fiber: 3 g
• Sugar: 1.70 g
• Sodium: 110 mg
• Protein: 19 g
• Cholesterol: 270 mg