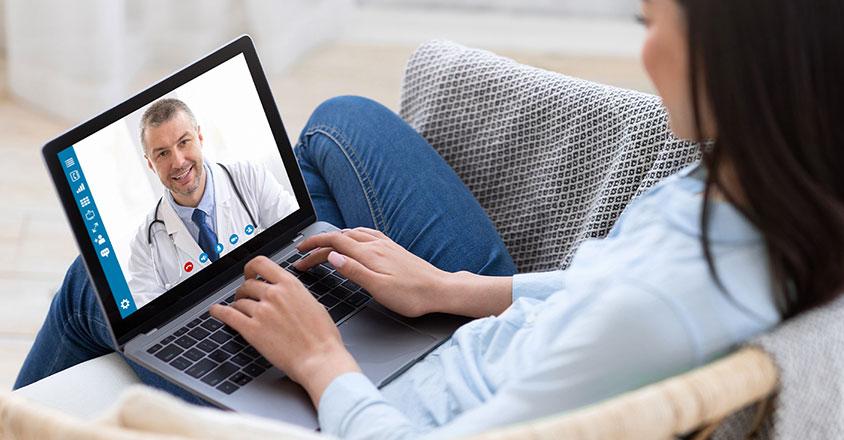 Get the most out of your virtual visit
Checking if someone needs a COVID-19 test is mostly about asking questions, which lends itself well to a telehealth approach. If you have a mobile device, a telephone, a tablet or a computer with an internet connection, you can visit with a provider from the comfort of your own home through a virtual visit. If you don't have that technology, you can still use the phone to conduct a telehealth visit. 
Telemedicine is a convenient way to handle minor, temporary, non-emergency medical conditions. A virtual visit is a smart way to reduce the potential for transmission of COVID-19.  
How to prepare for your virtual visit
Find a quiet, well-lit area for your appointment 
Avoid positioning yourself in front of a bright window, as that darkens the view the provider will have of your face. If you sit outside, extra noise and potentially wind noise will interfere with the call. 
Write down your list of questions 
Be ready to share your most recent temperature reading 

Prepare your device before your visit so that technical issues don't delay your appointment 

Focus on the session 
Just as you would during an office visit, eliminate distractions and interruptions during the virtual visit and give your provider your undivided attention. Shut off notifications on your cellphone and shut down apps that might create distractions or noise. 
Be prepared for an in-person follow-up. Depending on your circumstances, your provider may want to see you in person or send you for a test. 
Genesis HealthCare System's Health and Wellness content conveniently provides accurate and helpful information. Your health history and current health may impact suggestions provided through our Health and Wellness content. Although we hope this information is helpful, it is not a substitute for your doctor's medical advice. Before making any significant changes, please consult your doctor.