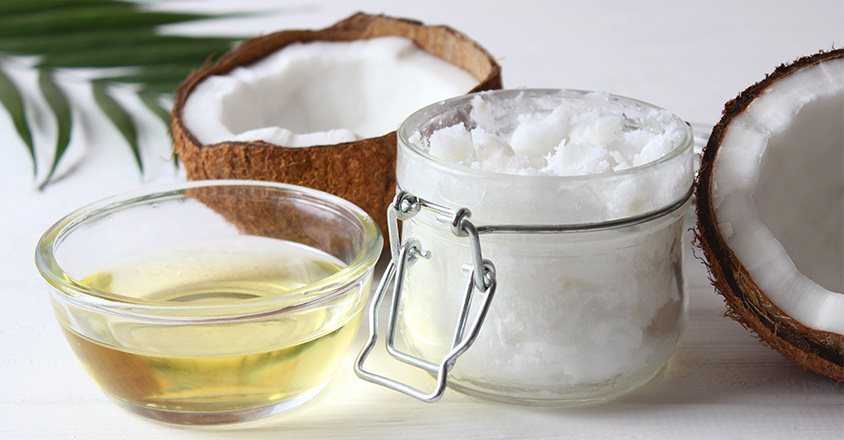 Ways to Use Coconut Oil to Help Your Skin and Hair
Thursday, January 26, 2023
From skincare to hair care and everything in between, coconut oil is becoming a staple of beauty regimens around the world. Made from the dried fruit of the coconut palm tree, coconut oil smells delicious and can be used in many ways. 
For your skin 
Coconut oil's natural antibacterial and moisturizing properties make it ideal for makeup remover. Use a cotton ball to rub coconut oil over your mascara and eyeliner for an easy, natural solution. It even works on waterproof makeup. 
If you have dry or combination skin, make coconut oil part of your nightly routine. Massage a dime-sized amount over your face and neck (circular motions are best), then wash off the excess with your favorite facial cleanser. 
For a great alternative to expensive exfoliators, mix one part of melted coconut oil with two parts of brown sugar. 
It can also be a great substitute for your favorite hand and body lotion. After showering, apply small amounts of coconut oil wherever a little moisturizing pick-me-up is needed. 
Shiny, happy hair 
Looking for a moisturizing or shine fix for your color-treated locks? Coconut oil has you covered. A 2003 study in the Journal of Cosmetic Science suggests that coconut oil helps to preserve your hair's protein and prevent cuticle damage. 
Just a pea-sized amount of the good stuff can be worked into damp hair for a boost of shine and moisture retention. Apply to the bottom inch or two from your ends. 
Coconut oil even works as a frizz fighter. Rub in a tiny bit of oil from the middle of your hair to the ends and you're good to go. 
With coconut oil, a little goes a long way, so be sure to use it sparingly. 
Genesis HealthCare System's Health and Wellness content conveniently provides accurate and helpful information. Your health history and current health may impact suggestions provided through our Health and Wellness content. Although we hope this information is helpful, it is not a substitute for your doctor's medical advice. Before making any significant changes, please consult your doctor.