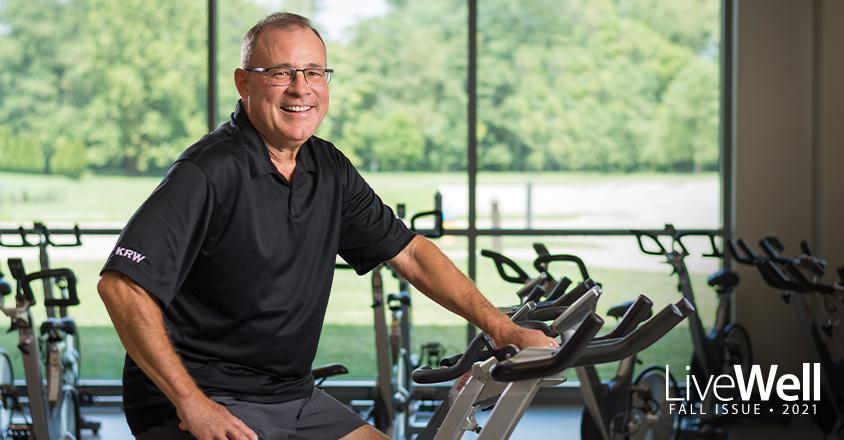 LiveWell Patient Story: "You can't out-exercise a bad diet"
Wednesday, November 10, 2021

|
Most people describe 66-year-old Ken Williams of Zanesville as one of the most active people they know. After a career as a funeral director, he started a new chapter in retirement, painting houses and mowing lawns. Then, in his free time, he played golf and did yoga. Ken also enjoyed taking frequent walks with his wife.
As if that weren't enough, up until 2017, he was an avid runner and ran marathons. "Unfortunately, my knees got so bad I could barely walk, so I quit running and had knee replacement surgery in 2018," said Ken.
From running to cycling
After surgery, his passion turned to indoor cycling. Never one to sit still, he soon signed up for his gym's indoor "Cycle Across Ohio" challenge where racers logged miles on their stationary bikes. Not only was he the oldest participant, he won the event. Ken continued to cycle several times a week. However, he noticed changes when he was working out at the gym. "I wasn't getting the same miles and couldn't burn the calories like I used to," he said.
"I was in shock"
On Sunday, April 25, 2021, Ken and his wife went to church. Ken recalls the minister touched on the topics of depression and anxiety. While he listened, his chest began to hurt. Ken describes the pain as "Not bad, like a three out of 10." At first, Ken thought the sermon was making him feel anxious. However, he soon realized something was not right and that it would be a good idea for his wife to drive him to the hospital.
At Genesis, Emergency Department staff rapidly assessed Ken and did a blood test. "The blood test showed I had a heart attack," said Ken. "When they told me, I went into shock and passed out." Ken quickly came around after he was given medication. He was stabilized and scheduled for a cardiac catherization the next day.
Expert care, right at home
Before his heart attack, Ken was not aware that nationally accredited, award-winning cardiac care was available in his hometown of Zanesville. Led by fellowship-trained and board-certified heart specialists, the Genesis Heart & Vascular Institute was the first in Southeastern Ohio to become a fully accredited Chest Pain Center. "Mr. Williams had a non-stemi, which means he had a heart attack but was stable at the time of evaluation and didn't require immediate intervention," said Abdulhay Albirini, M.D., Fellowship-trained and Board-Certified Interventional Cardiologist at the Genesis Heart & Vascular Institute.
Balloon and stent procedure
The next day, Dr. Albirini performed a balloon and stent procedure. A heart catheter was inserted through an artery in Ken's wrist, which allowed the doctor to move a tiny balloon to his heart arteries and inflate it to open the blockage. Dr. Albirini then placed stents to keep the blocked arteries open so the blood could flow properly. The procedure took less than one hour. The next day, Ken was able to go home.
"In a few days, I was able to do whatever I wanted. I was given medication in case I had chest pain, but I never needed it," said Ken.
Since it happened, Ken took a hard look at his life and lifestyle, especially since heart disease doesn't run in his family. He was honest with himself and realized he needed to lose weight. Ken's pre-heart attack diet included high-sugar and high-fat foods like ice cream, pop and sausage. Post-heart attack and wiser, Ken's given those foods up for options like fresh fruits and vegetables.
"I've completely changed my diet, and I feel much better. For breakfast, I may have blueberry yogurt and a banana," said Ken. So far, Ken has lost 32 pounds. Ken also admits his wife and two adult sons, both marathon runners, encouraged him to lose weight prior to his heart attack.
"I always exercised, but I was overweight and didn't eat right," admits Ken. "My wife summed it up best. She said, 'You can't out-exercise a bad diet.'"
A second chance at life
Nowadays, Ken continues to stay active and has added pickleball into the mix. But what's different is he also stays disciplined about what he eats. "Dr. Albirini did a great job. I consider this a second chance at life," said Ken. "I also think it is important to know that you can live a normal life after having stents put in. One of my friends I met with recently told me he has had his stents for 18 years. That was very encouraging."