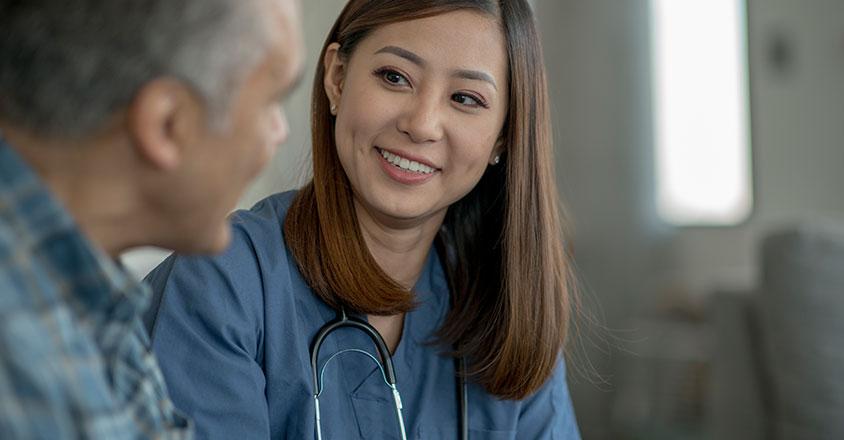 The Relationship You Need to Be In
Tuesday, September 27, 2022
Your relationship with your doctor is one of the most important and personal ones you'll ever have, which is why you should be in one with a primary care provider (PCP). A PCP, or family doctor, is your first point of contact when you need non-emergency care for a wide variety of medical issues. Your PCP advocates for you and works with specialists and other healthcare professionals. Your PCP provides preventive care, identifies and treats common medical conditions and teaches healthy lifestyle choices. Yes, you need a PCP.  
Q: Why do I need a PCP? 
A:  Your PCP can take care of non-emergency health issues, such as colds, flu and rashes as well as your preventive health needs, like routine screenings. Each contact is an opportunity for prevention and health promotion. If your condition requires a referral, your PCP coordinates your care, and is a designated resource for specialists that knows you and your health history.  
Q: What's a nurse practitioner and physician assistant?  
A: They are practitioners who go through a different training and certification process than doctors. They may serve as your PCP in some medical practices. 
Q: Is my PCP my lowest cost option for healthcare? 
A: Visits to your PCP are less expensive than visits to urgent care clinics, Emergency Departments or specialists.  
Q: Do I have to see my PCP for a referral?  
A: Your PCP handles your overall care and can coordinate medical treatments across many specialties if a condition is beyond their scope. These specialists are responsible for your treatment, but your PCP oversees the entire series of events. Check with your insurance company on referral requirements.  
Q: Who do I see if I have a chronic condition?  
A: Chronic health conditions like diabetes, arthritis and lupus can be difficult to monitor by yourself. A PCP can help you stay aware of how your chronic disease is affecting your body. Scheduling regular visits and performing routine tests are two ways your doctor can help you maintain your chronic condition.  
A PCP will get to know you and your family medical history well enough to ask the right questions and detect other health issues in their early stages. They're trained to care for a person from infancy to advanced age. Find a PCP close to where you work or live and start the important relationship.   
Genesis HealthCare System's Health and Wellness content conveniently provides accurate and helpful information. Your health history and current health may impact suggestions provided through our Health and Wellness content. Although we hope this information is helpful, it is not a substitute for your doctor's medical advice. Before making any significant changes, please consult your doctor.