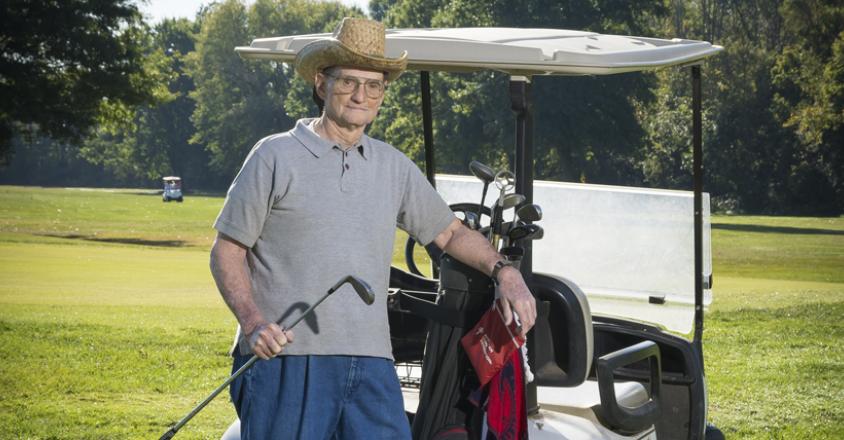 Replacing Heart Valves for 89-Year Old Golfer Using TAVR
Friday, October 25, 2019

|
Genesis offers TAVR procedure in Southeastern Ohio
Bob Martin, a longtime Zanesville resident, shared a golden piece of advice that he's followed for nearly 90 years: Look in the mirror each morning and say, "Today is going to be a good day – and I'm going to enjoy it!"
Bob's mantra helps him find joy in every day – whether he's caring for his bride of 66 years, Bonnie, who is legally blind and enduring dementia, tending his garden beds, or squeezing in a round of golf. But even with a glass-half-full perspective, Bob could see that something was amiss when he became extremely short of breath and tired after everyday tasks.
"All my energy and breath would leave me several times a day, and I just had to sit and rest," Bob remembered. "When I told my regular doctor, he ordered an echocardiogram. The test showed a problem – my heart valve wasn't opening correctly."
Replacing heart valves through the groin, faster recovery
Bob was diagnosed with aortic stenosis, an extremely common and serious heart valve disease caused by narrowing or stiffening of the valve opening. Such narrowing, usually caused by calcium build up over time, eventually blocks or reduces blood flow from the left ventricle to the aorta. With extra work for the heart and decreased blood flow to the body, aortic stenosis can cause dizziness and fainting, chest pain, fatigue and heart palpitations. If left untreated, the heart muscle weakens, and serious heart problems can develop. Bob received a referral to the Genesis Heart & Vascular Institute, where Mohamed Ahmed, M.D., interventional cardiologist, explained an innovative and highly effective treatment called transcatheter aortic valve replacement (TAVR).
"Thanks to TAVR, we now have a means to replace the aortic valve without the traditional open surgical approach – and Genesis is the only facility in Southeastern Ohio performing this minimally invasive procedure," Dr. Ahmed said. "We go through the groin with a thin flexible catheter instead of cracking open the rib, the valve is positioned and then implanted inside the diseased aortic valve,"
he said.
Feeling better one hour after heart procedure
"Patients typically stay overnight in the hospital after TAVR, and most patients don't need general anesthesia. If all risks and benefits are weighed and the patient is a candidate for TAVR, this procedure is likely the best option. TAVR is much less invasive – recovery is shorter which helps patients get back to enjoying the things they love in less time," Dr. Ahmed said.
Genesis' Structural Heart program was launched earlier in 2019 to perform minimally invasive heart procedures that had never been done in the region.
"It's a complete paradigm shift. Before our program, people had to drive all the way to Columbus or go without treatment. I had several patients tell me they'd rather live with their heart issues and die here than go out to Columbus," Dr. Ahmed said. "Now that we're performing the procedures, we're seeing good outcomes, and I believe we're impacting a lot of lives."
After undergoing TAVR at Genesis, Bob whole-heartedly testifies that his life was impacted for the good.
"It's as if I was 10 years younger and nothing had ever happened," Bob said. "Within one hour of the procedure, I was feeling great and ready to go home. The people at Genesis – on a scale from 1 to 10 – I'd give them an 11. Rachel Rauch and Stephanie Bever, R.N.s, structural heart navigators, kept me fully informed about where we were at, what they were doing and why they were doing it."
Genesis' Structural Heart team consists of imaging specialists, nurses, surgical experts, an interventional cardiologist and cardiothoracic vascular surgeon – all striving to provide the highest quality of compassionate heart care.
"We are in the business of caring for patients for a reason," said Atiq Rehman, M.D., chief of cardiothoracic surgery, Genesis Heart & Vascular Institute. "It's so rewarding to see patients healthier and gratified."
National surgical experience and heart procedures at Genesis 
Like Dr. Ahmed, Dr. Rehman joined Genesis at the beginning of the Structural Heart program. He brings to Genesis significant expertise, because he has been intricately involved with the TAVR procedure and also trained and helped initiate TAVR programs nationwide.
Even with such remarkable experience, Dr. Ahmed says he's the one impressed when it comes to Genesis and the people of Zanesville. "This community is so cohesive and caring – it's unique. You don't get that a lot in today's world," Dr. Ahmed said. In addition to the fantastic community, Dr. Ahmed praised the quality of healthcare available at Genesis.
"We are providing cutting-edge technology at Genesis that is available at leading centers around the country," Dr. Ahmed said. "Genesis has taken giant leaps forward and is in a different league now."