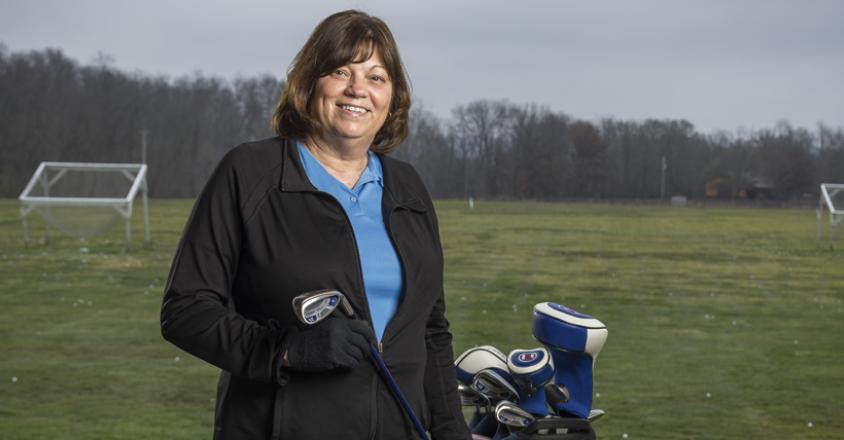 Heart Emergency?
Friday, February 19, 2021

|
Fast, life-saving advanced heart care is here
After her morning ritual on the treadmill, Terri Scott arrived at Cambridge Primary School, where she served as an interventional reading specialist for kindergarten through second grade. She completed her first meeting of the day, walked toward the door and collapsed to the floor.
"I had no symptoms before – no shortness of breath, no history of heart problems, no chest pain. I just collapsed," Terri said.
As emergency medical technicians (EMTs) arrived and assessed Terri's situation, they determined she needed Genesis' advanced cardiology care. The decision of which hospital to transport Terri to proved vital to her survival.
Potentially fatal condition
"Terri suffered from an acute aortic ascending dissection, a fatal condition," said Mario Matos-Cruz, M.D., a fellowship-trained cardiothoracic vascular surgeon at the Genesis Heart & Vascular Institute. "A lot of patients die instantly from this. Many don't ever make it to the hospital. Sometimes they make it to a hospital but need to be transferred to a more capable hospital, and during the transfer they lose their life. We have the ability to repair these intense heart situations at Genesis."
An acute aortic ascending dissection occurs when the wall of the body's main artery (the aorta) tears, causing blood to flow between layers of the aortic wall and reducing the oxygen and nutrients that get to the body's organs.
"Our arteries have three layers. With an aortic dissection, instead of three layers holding blood within the artery, it's just one outside layer attempting to keep the blood intact," explained Atiq Rehman, M.D., fellowship-trained cardiothoracic vascular surgeon at the Genesis Heart & Vascular Institute. "That singular layer is as thin as an onion peel. Plus, each heartbeat creates a pressurized pulse, further compromising the injury. For any chance of survival, we must keep patients calm and their blood pressure in control, and get them to the operating room as soon as possible," said Dr. Rehman.
With time being of the essence, Drs. Matos-Cruz and Rehman and a team of cardiac experts began surgically repairing Terri's heart within minutes of her arrival at Genesis Emergency Department (ED).
Record time
"Within 23 minutes of the first call concerning Terri's condition, we were in the operating room working - which is as good as it gets both worldwide and nationwide," Dr. Matos-Cruz said.
Terri's husband, Jon Scott, arrived at the ED just prior to the surgery.
"They didn't waste any time and they couldn't. Right before they took her back, the surgeons put the CT scan on a screen and explained everything to me. As they did, I just felt like this was the right thing to do, and I had confidence in the doctors. It was scary and there were a lot of decisions made fast, but I just felt we were at the right place," Jon said.
The advanced and complex open-heart surgery lasted almost six hours. To perform the operation, a heart-lung bypass machine took over Terri's heart function and maintained circulation. The expert surgeons temporarily lowered her body temperature to stop blood flow as they replaced a portion of the aorta and repaired the aortic valve. "Her body went through a lot," said Jon. "She was in the Critical Care Unit (CCU) for three weeks and then another week in a step-down unit."
Terri's recovery required dedication and teamwork. Thankfully, Genesis is known for both.
"When I woke up, my left side wasn't working right," Terri said. "It was scary, but the nurses were so kind and compassionate, calming and encouraging."
While doctors and nurses collaborated to stabilize Terri's condition, physical, occupational and speech therapists worked together to assist Terri with her recovery.
"We are fortunate to have Genesis HealthCare System in our community," Jon said. "The staff was helpful and caring. Terri got support with anything she needed, and so did I. For example, I was worried about the health insurance. They took care of all that so I could focus on Terri, and she could focus on healing."
Completing the reconstruction
After her initial hospitalization, Terri needed two more surgeries at Genesis to complete her aortic repair and reconstruction. During Terri's subsequent surgeries, Dr. Matos-Cruz deployed stents, or tiny wire mesh tubes, to hold open and strengthen her aortic wall, and maintain proper blood flow.
"Over the course of this year, we've developed a relationship with Terri as she recovered and had the two additional operations," Dr. Rehman said. "Now, her future looks bright and optimistic. She can look forward to a normal life."
Indeed, Terri radiates with positivity and perspective.
"Even though it's been difficult, there have been a lot of blessings," Terri said. "By the grace of God, I went to Genesis, and I'm grateful for the caring staff."