 Zane State College Students Tour Genesis Hospital Construction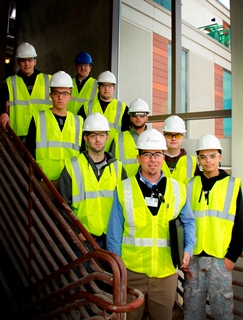 Zanesville, OH (Oct. 30, 2014) – Zane State College students got a firsthand look at construction of the new Genesis hospital recently as part of their Construction Methods and Materials course.
Pictured during the tour in the first row (top to bottom) are Billy Church, Caleb Saunders and Anthony Minosky with Jeremy Davis, SmithGroup, PLLC/Trinity Health Group/Brian Addis Architect LLC. Pictured in the second row (top to bottom) are Craig Whitson, Zane State College instructor, and students Cade McCullough, Bill Mobley, Nathaniel Stalling and Weslee Estrada.