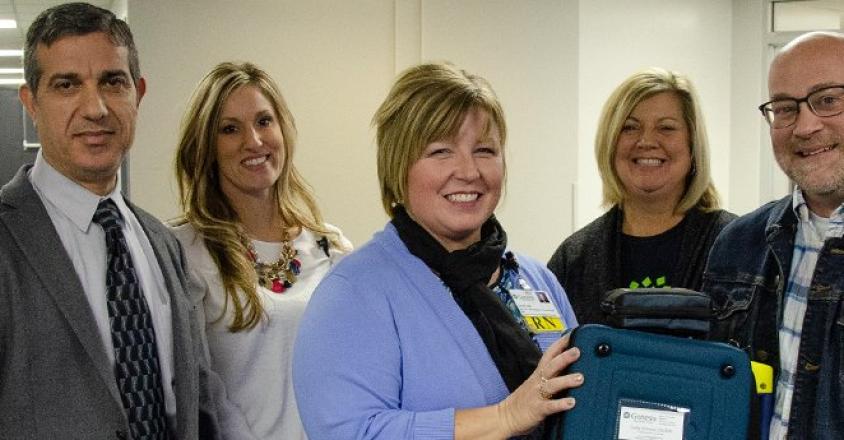 Portable Defibrillator Presented to North Terrace Christian Preschool, Four Additional Area Locations
Friday, November 30, 2018
ZANESVILLE, OHIO (Nov. 27, 2018) North Terrace Christian Preschool students, teachers and visitors have an extra layer of protection during a cardiac event thanks to the donation of an automatic external defibrillator (AED) from Genesis HealthCare System. AEDs are portable devices that instruct users how to deliver an electric shock to get a heart responding normally after a cardiac event.
Genesis HealthCare System partnered with the Zanesville-Muskingum County Health Department to present six AEDs to area schools and athletic fields throughout the community. The donations are a part of the healthcare system's outreach efforts as it pursues its fourth Chest Pain Center Accreditation with PCI. This accreditation recognizes that Genesis houses dedicated interventional cardiologists and emergency personnel trained in rapid response and treatment of heart attacks.
Abdulhay Albirini, M.D., interventional cardiologist; Tabitha McKenzie, R.N., B.S.N., MBA, director, Genesis Heart & Vascular Services; and Cathy Sorensen, R.N., B.S.N., chest pain coordinator, made the presentation to North Terrace Christian Preschool Nov. 27.
Genesis also announced the donations of AEDs to four additional locations including Bishop Rosecrans School System, West Muskingum School System, Morgan Local Schools Youth League and the Muskingum County Fairgrounds. Free training and education concerning early heart attack care and the appropriate use of the donated AEDs will be provided to administrators, coaches and staff by Sorensen.