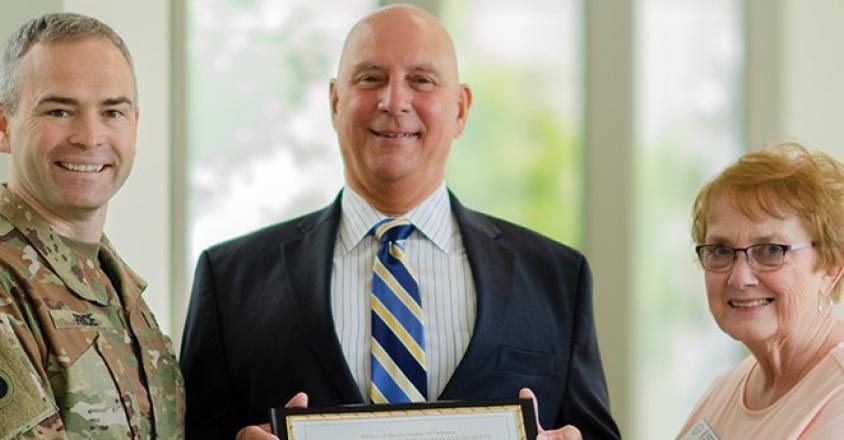 John Zimmerman, MD Receives Patriot Award
Zanesville, Ohio (June 28, 2019) – John Price, physician assistant, Genesis Emergency & Trauma Services, recently presented John Zimmerman, M.D., medical director, FirstCare, with the patriot award. The patriot award recognizes supervisors or bosses for supporting military personnel while serving in the armed forces.
"The award is given to an employer who greatly supports the military personnel when the soldier has to be gone," Price said. The support can include flexible schedules, time off before and after deployment, caring for families and granting leaves of absence if needed. Price, a major in the Army National Guard, has been deployed to serve in the past. "I have the support of Dr. Zimmerman and Genesis to adjust my work schedule for training and military commitments, and that means a lot to me," he said. Price works in the Genesis Emergency Department in Zanesville, the Genesis Perry County Medical Center Emergency Department in Somerset and at Genesis FirstCare.
Price nominated Dr. Zimmerman for the award. "This award is very humbling to me," Dr. Zimmerman said. "It's an honor to be able to support the men and women who make great sacrifices to make America the great place it is."
The patriot award is presented by the Employer Support of the Guard and Reserve (ESGR), a Department of Defense program that develops and promotes supportive work environments for service members.