 Genesis Volunteers Sponsor "Chalk Talk"
Monday, September 21, 2015
Genesis Volunteers are bringing a unique art presentation to the community. "Chalk Talk" is a presentation by Elva Hurst, a chalk artist, who will illustrate a story told by music or narration. "We're looking forward to bringing this unique art form to our community," said Betty MacDonald, Genesis volunteer and chairman of the event. "I've been to Elva's presentations, and it's amazing to watch the way she uses chalk and light to create beautiful drawings."
The presentations will be Thursday, Oct. 22, at Bryan Place, 49 North 6th Street, Zanesville. There will be two presentations: one at 4 p.m. and another at 7 p.m., with a buffet dinner in between. The 4 p.m. presentation is titled "A Story In Art," and the 7 p.m. presentation is "Memories of a Great Generation."
Tickets are $50 for both presentations and the buffet, or $35 for one presentation and the buffet. The ticket price includes a chance to win one of Hurst's drawings similar to the one shown in the photo. To purchase tickets call: Betty at (740) 453-0906; Terri at (740) 454-0243 or Shirley at (740) 452-4825. For more information, go to "Education & Events."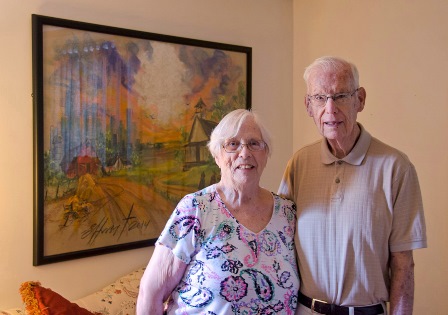 Betty and Gene MacDonald are pictured with one of Elva Hurst's "Chalk Talk" drawings. The "Chalk Talk" presentations are Thursday, Oct. 22, and the ticket price includes the chance to win a drawing similar to the one shown in the photo.