 Genesis Receives Hospital of the Year Award
 Zanesville, Ohio (March 18, 2016) – Genesis HealthCare System received the Hospital of the Year award by Lifeline of Ohio on Saturday, March 12. The award was given to Genesis out of 75 hospitals for demonstrating outstanding collaboration in support of organ, eye and tissue donation, their comprehensive donation policies and procedures, and donation recovery outcomes.
 In 2015, Genesis had five organ donors who were able to save nine lives. "There's an extraordinary and successful team at Genesis who have been instrumental in making the gift of organ, eye and tissue donation possible in our community," said Dianna LeVeck, chief human resources officer at Genesis.
 Genesis staff members were honored for their roles in saving and enhancing lives through organ, eye and tissue donation at "An Evening with the Stars" presented by Lifeline of Ohio. Lifeline of Ohio is an independent, non-profit organization that promotes and coordinates the donation of human organs, eyes and tissue for transplantation.
 For more information on how to register as a donor, go to genesishcs.org or lifelineofohio.org.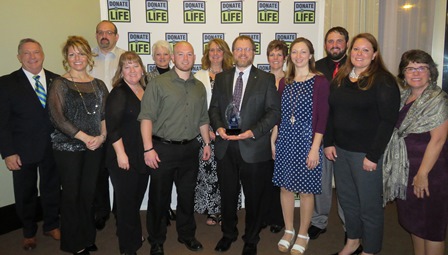 Genesis staff members receive the Hospital of the Year award at the Lifeline of Ohio (LOOP) recognition program. In the center holding the award is Dan Vincent, Genesis LOOP liaison. Pictured on the far left is Kent Holloway, LOOP CEO, and on the far right, Kathy Warhola, LOOP hospital representative.