 Genesis Receives Donation of Hats for Children in Hospital
Zanesville, OH (April 14, 2015) – Genesis HealthCare System recently received a donation of 100 hats for children in the hospital. The crochet hats were made by Barbara Delong and other volunteers.
"The hats are greatly appreciated by our children and families," said Sue Hoover, director, of Genesis Women's Services. "The hats will be used for newborns immediately following birth when babies need a hat to maintain body temperature and also for pediatric patients who sometimes don't have hats," Hoover said. "The work done by the volunteers through the Heaven's Healing Hats program is fabulous."
Each hat takes about 3 ½ to 4 hours to make. "Our volunteers do a lot of behind the scene work like making hats and sewing pillows for patients," said Paul McClelland, director of Volunteers.
"We're grateful for the more than 300 volunteers who are part of the team at Genesis," McClelland said.
If you'd like to find out how you can help with Genesis Volunteer projects, call (740) 454-5454.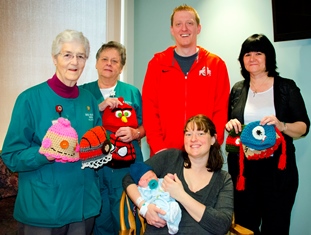 Barbara Delong donated 100 colorful crochet hats to Genesis HealthCare System for children in the hospital. Pictured left to right are Wanda Hagley and Joan Hennen, Genesis volunteers; Kim Henderson, mother, holding baby Cutler