 Genesis Pro-Am Golf Tournament Raises $139,000
ZANESVILLE, OH (May 5, 2017) – The $139,000 raised by players and sponsors in the 36th annual Genesis Pro-Am Golf Tournament has funded important medical equipment, health care services and scholarships. The tournament took place Sept. 9, 10 and 11, 2016, at Zanesville Country Club and was hosted by the Genesis HealthCare Foundation. The primary beneficiary, Genesis Surgical Services, received $121,250. Genesis Cancer Services received $7,750, and the John Gonder Scholarship Fund, which awards scholarships to deserving local students who are pursuing a degree in health care, received $10,000.
"With the funds from the Pro-Am event, we have been able to purchase advanced surgical video equipment that will allow physicians to perform minimally invasive procedures more easily and efficiently," stated Shon Bender, director of Genesis Surgical Services. "Having this new equipment means our patients will be even safer and will have a more comfortable recovery."
During its 36 years, the tournament has raised funds to help patients undergoing cancer treatment through Genesis Cancer Services, patients with urgent medical needs through Emergency Services, terminally ill patients at Genesis Hospice, and children needing various therapies through Genesis Pediatric Rehabilitation, in addition to funding other health care services.
"On behalf of the Genesis HealthCare Foundation and the Pro-Am Committee, we thank the many business that have supported this event during the past 36 years," said Paul McClelland, executive director, community engagement and Genesis HealthCare Foundation.
Cameron Drilling Company; Century National Bank; Matesich Distributing; U.S. Bridge; Shelly & Sands; Rankin & Rankin Insurance Services; Huntington Bank; WHIZ News; Zanesville Sertoma; PNC; Miller-Lynn Insurance Service; Muskingum Iron & Metal Company; OK Coal & Concrete; and Kessler Sign Company have all contributed to the event since its inception.
The Pro-Am Tournament has raised a total of over $2.5 million to date to support health care advancements within the region. This year, the tournament will continue raising funds to support advances in health care with its 2017 Pro-Am scheduled for Sept. 8, 9 and 10 at the Zanesville Country Club.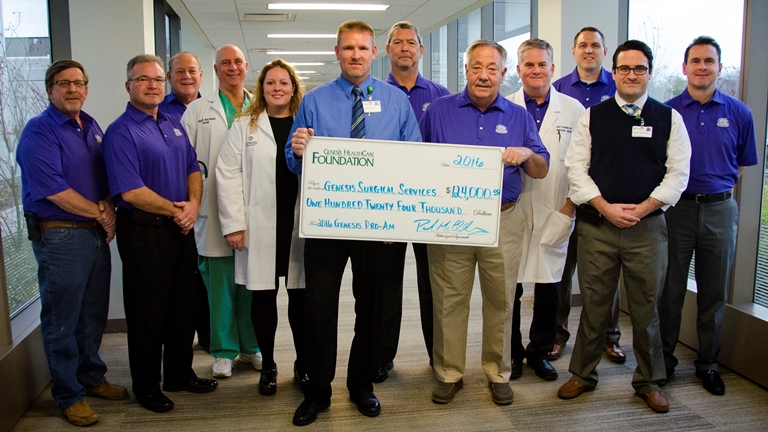 Present for the check presentation of $139,000 raised by the Genesis Pro-Am Golf Tournament are representatives of the Pro-Am Committee, Genesis Surgical Services, Genesis Cancer Services, Genesis Surgical Associates and the Genesis HealthCare Foundation. Right to left are Ron Davis; Adam Rothermel, M.D.; Paul McClelland; Scott Wegner, M.D.; Bob Kessler; Mike Micheli; Shon Bender; Brandice Alexander, D.O.; John Zimmerman, M.D.; Randy Coconis; Brian Addis; and Bob Melsheimer.