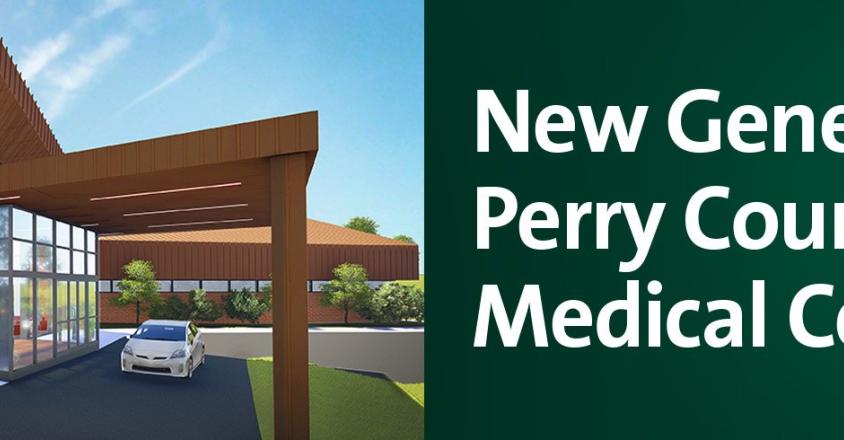 Genesis Partners with Perry County to Offer 24-Hour Emergency Services and Expanded Outpatient Services
Monday, February 13, 2017
ZANESVILLE, OH – Feb. 10, 2017 – Genesis HealthCare System announced today that it will construct the Genesis Perry County Medical Center (GPCMC) in Perry County as a result of a partnership with the Perry County Health Department, Perry County Increase Access to Care Committee (IACC), government officials, area universities, and state and local agencies. The GPCMC will house a 24/7, full-service Emergency Department, advanced radiological imaging services, laboratory, physical therapy, cardiac diagnostic testing and specialist physician services such as cardiology.
Results from a recent Health Needs Assessment survey conducted by the Perry County Health Department showed access to care as being the biggest barrier to Perry County residents when seeking health care. "We understand that improving access to care is a critical need and requires a high level of mutual understanding and collaboration with community individuals and key stakeholders," said Angela DeRolph, Perry County health commissioner and co-chair of the IACC.
"All of us from public health leaders and business, education and government professionals, to community members have a role to play, and that is why the IACC was formed in 2013," stated DeRolph. "Our committee's goal is to increase access to health care and prevention services across the health system for all Perry County residents. Over the past four years, the IACC has used a community led approach to identify gaps and best approaches to recruit hospitals, health care providers, community colleges and universities with a primary focus on how to expand health care options and identify public health efforts that can be implemented to improve health outcomes. We are excited that Genesis HealthCare System will be constructing the Genesis Perry County Medical Center, and we look forward to continued collaborations as we work together to make Perry County a healthier place to live, work and play," stated DeRolph.
"Perry County has no hospital or emergency services currently within the county," said Tom Johnson, mayor of Somerset and co-chair of the Perry County IACC. "We are grateful to have Genesis step up and build an Emergency Department here in the county. It will significantly change the number of Perry County lives that are saved."
Genesis HealthCare System President & CEO Matthew Perry said, "Genesis is committed to providing improved local access to health care services for the residents of Perry County. We were happy to partner with Perry County to better understand the community's needs and to provide much needed emergency care services and a wide array of outpatient services locally, close to home."
Perry explained just how important it is to be close to emergency care when it's needed the most. "In cases of trauma, heart attack or stroke and other life-threatening conditions, the first hour after the onset of symptoms or injury is called 'The Golden Hour,'" he said. "It's recognized that the sooner trauma, stroke or heart attack patients reach definitive care – particularly if they arrived within 60 minutes of the onset of symptoms or injury – the better their chance of survival."   The Perry County Emergency Medical Services, made up almost exclusively of citizen volunteers/responders, are currently required to transport Perry County patients to facilities outside of the county resulting in critical delays in care. This also results in long periods of time when both the responders and the scarce emergency response resources are out of the county and effectively out of service for several hours.
"Hocking College is proud to collaborate with Genesis HealthCare System in support of the Genesis Perry County Medical Center," said Betty Young, Ph.D, J.D., LL.M, president of Hocking college. "This new facility will not only deliver greater medical access to the residents of Perry County, but will also provide a wide range of employment and educational opportunities for the students at Hocking College. Since the new facility will require a trained and qualified workforce, Hocking College is well positioned to provide graduates from a wide range of programs that include medical records, medical assistant, EMTs and paramedics."
"One thing we have learned is that communities pay a price when they lack access to health care services," explained Randy Leite, dean of Ohio University's College of Health Sciences & Professions. "Somerset and Perry County has struggled with this issue for quite a while. Genesis' commitment to bring enhanced services to the area sets the stage for real improvement in health outcomes. We are happy to stand as a partner in this effort."
Genesis will construct the Emergency Department on its current Somerset campus located at 301 Dr. Mike Clouse Drive adjacent to the Somerset Reading Township Pool. The Somerset location was chosen because it is centrally located, just 12 minutes from 75 percent of Perry County's residents. Genesis plans to renovate the existing 10,250 square foot facility and construct a 7,500 square foot Emergency Department addition to create the GPCMC.
The Emergency Department will be a full-service facility, with board-certified emergency physicians and specially trained registered nurses, emergency medical technicians and other critical support staff. It will have eight emergency examination and treatment rooms, a trauma/major medical bay, a triage area, laboratory, X-ray, CT scanning, blood bank, pharmacy and ultrasound.
The GPCMC will be capable of accepting and treating any emergency patient. In total, this facility would employ a minimum of 40 full-time equivalent (FTE) employees, many of them in allied health professions in programs available at Hocking College and Ohio University. Construction on the project will begin June 2017.