 Genesis One of First in Ohio to Offer Rock Steady Boxing
Zanesville, OH (Feb. 18, 2016) – Genesis Rehabilitation Services is one of the first in Ohio to offer Rock Steady Boxing. The non-contact fitness program is designed to improve movement for those fighting Parkinson's disease. Parkinson's is characterized by tremors, slow movements, rigidity, unstable posture and freezing movements. "The high intensity, 30-second quick punches and left to right jabs are designed to help improve the freezing movements that people with Parkinson's often have," said Brian Garrett, physical therapy assistant, Genesis Rehabilitation Services.
The exercise classes are making a difference for people in the community fighting Parkinson's. "Physicians report patients' balance, movement and confidence improves with exercise," said Rhonda Forrestal, physical therapist, Genesis Rehabilitation Services. Rock Steady Boxing is open to anyone in the community fighting Parkinsons's disease. The exercise program is on Tuesdays from 10 to 11:30 a.m. at the International Brotherhood of Electrical Workers (IBEW) Hall, 5805 Frazeysburg Road, Nashport. The cost is $5 per class, and the first class is free. Participants can join any Tuesday. For more information, call (740) 455-5151 or go to genesishcs.org.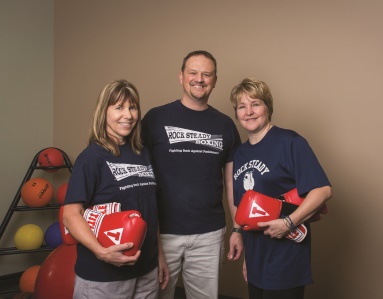 Physical therapists at Genesis Rehabilitation Services received advanced training to offer Rock Steady boxing for those fighting Parkinson's disease. Pictured left to right are Genesis Rehabilitation Services staff Colleen Johnson, Brian Garrett and Rhonda Forrestal.