 Genesis Hospital Receives Toy Donation from Young Girl
Tuesday, January 26, 2016
Zanesville, OH (Jan. 22, 2016) – Francesca Dougherty, age 5, delivered bags of toys to Genesis Hospital this week. "I thought it would be nice to give toys to sick kids," the preschooler said.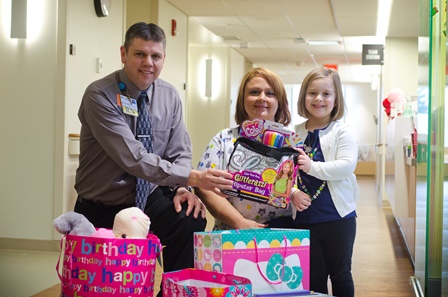 Francesca and her parents, Alaina and Daniel Dougherty delivered the 86 toys to Genesis Hospital on Monday. The young girl was in a hospital a short time when she was 3 years old and enjoyed the toy she received. Instead of receiving presents for her fifth birthday party on Jan. 8, Francesca asked friends and family to bring gifts she could donate for children who stay at Genesis Hospital. 
Heath Williams, director, Genesis Emergency & Trauma Services, appreciated the toys to share with about 25 children who come to the Genesis Emergency Department daily.