 Genesis Hospice Receives Donation From Follies Family
Zanesville, Ohio (July 24, 2015) – Genesis Hospice Care recently received a $25,000 donation from the Follies Family. The donation is a result of the proceeds from the annual variety show put on by the Follies Family. The sole purpose of the show is to raise money for community members in need of Hospice care. The money raised helps those who can't afford Hospice care and also provides medications and supplies for those being cared for at home by Genesis Hospice.
The Follies Family cast is made of all volunteers who put on the song and dance show annually at Secrest Auditorium in Zanesville. For more information about the Follies Family, go to folliesfamily.com. To learn more about Genesis Hospice Care, go here.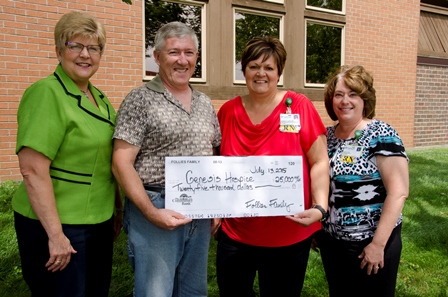 Follies Family representatives present a check for $25,000 to Genesis Hospice Care. Pictured left to right are: Charlotte Snider, vice president, and Jon Kullman, president, Follies Family; Rebecca Jenei, director, and Lori Junk, manager, Genesis Hospice Care