 Genesis Honored for Healthy Worksite Practices
Zanesville, OH (July 8, 2016) – Genesis HealthCare System has been recognized by the Ohio Department of Health and the Healthy Ohio Business Council for healthy worksite practices. Genesis was awarded the silver award in the large business category for demonstrating a commitment to employee wellness through extensive worksite health promotion and wellness programs.
"We are honored to receive this award," said Heather Shuster, manager, Genesis Population Health & Wellness. "We're committed to the wellness of our employees." The health care system was scored on the wellness programs' ability to encourage employee health, amplify productivity and ensure a healthy work atmosphere in 2015. The award was presented at a ceremony held earlier this year.
This award is beneficial to all Genesis employees and the surrounding community because of its impact on health and wellness. With a healthy worksite, employees are motivated to improve their own health. This in turn reduces health care costs and increases workplace productivity and satisfaction. For more information, go to genesishcs.org.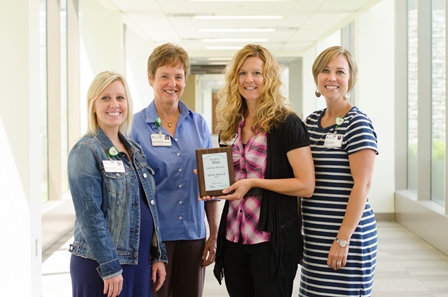 Genesis received a silver award from the Ohio Department of Health for healthy worksite programs. Pictured with the award left to right are Genesis Wellness team members Meghan Green, Mary Kitzig, Kelly Zumbro and Stacey Shreyer.