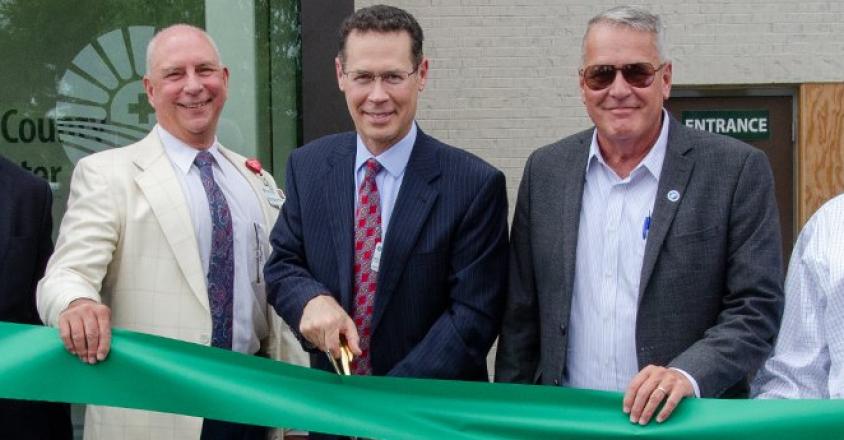 Genesis HealthCare System Brings Emergency Care to Perry County
Wednesday, August 22, 2018
ZANESVILLE, OH (Aug. 15, 2018) Genesis HealthCare System will begin seeing patients in its new Perry County Emergency Department (ED) Monday, Aug. 20, at 7 a.m. The ED is located at 301 Dr. Mike Clouse Drive in Somerset, Ohio, at the Genesis Perry County Medical Center (GPCMC). There will be a community open house Saturday, Aug. 18, from 10 a.m. to 1 p.m. Tours and refreshments will be available.
"We are thrilled to provide the people of Perry and surrounding counties emergency care close to home," said Matthew Perry, CEO of Genesis HeathCare System. "During an emergency, every minute counts. We built the ED in Somerset because it is just 12 minutes away from 75 percent of the county's population."
Planning for the GPCMC resulted from a health needs assessment designed to help county leaders better understand the needs of the Perry County community. The assessment identified access to care as the No. 1 barrier to good health. Genesis HealthCare System partnered with the mayor of Somerset, the Perry County Health Department, government officials, emergency services and universities to identify the scope of needed services.
The Genesis Perry County Medical Center consists of the new 7,500 square foot ED along with the renovation of existing space with outpatient services including laboratory, X-ray, CT scanning, MRI, bone density, echocardiogram, ultrasound, pulmonary function testing and physician specialists. Rehabilitation services include occupational, speech and physical.
Emergency care and board-certified physicians
The ED is a full-service facility with board-certified emergency physicians and specially trained registered nurses, emergency medical technicians and other critical support staff. The ED can accept and treat any emergency patient: heart attack, stroke, complex medical conditions, serious injuries and much more.
In the past, the Perry County Emergency Medical Services, made up almost exclusively of citizen volunteers/responders, were required to transport Perry County patients to facilities outside of the county resulting in critical delays in care. This also resulted in long periods of time when both the responders and the emergency response resources were out of the county and effectively out of service for several hours. The new GPCMC fixes this long-standing problem because EMS has an ED inside the county.
The new construction took approximately one year to complete. Genesis partnered with SmithGroup JJR Architects and Robertson Construction on the new facility. There are currently
63 full-time staff members at the GPCMC, many of whom live in Perry County.
Cutting the ribbon at the grand opening of the Genesis Perry County Medical Center and Emergency Department are (left to right) Steve Stivers, U.S. Congressman; Dr. John Zimmerman, medical director, Genesis Emergency Services; Matthew Perry, CEO, Genesis HealthCare System; Randy Cochrane, Chair, Genesis HealthCare System Board of Directors; and Tom Johnson, Mayor, Somerset.